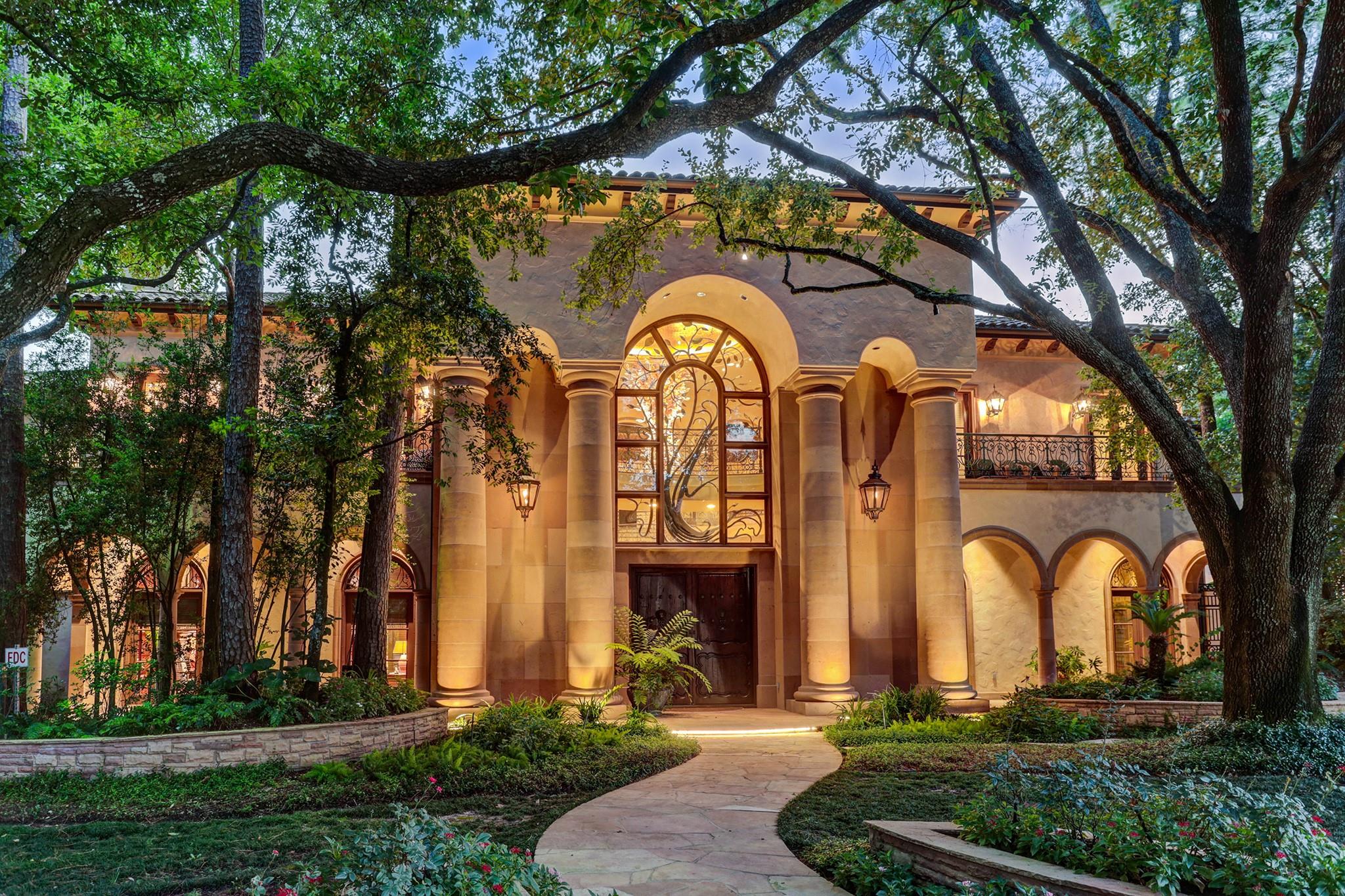 Front Elevation - Positioned on the crest of a bluff towering above Buffalo Bayou, the commanding façade, monumental proportions, and graceful grandeur of 8843 Harness Creek conjure the power and ancient rhythms of an ancestral European manse. Custom designed for the seller by Craig Stiteler, AIA, this opulent, approximately 1.5-acre compound provides the luxury and security essential for a private, self-contained estate. A guard kiosk poised at the entrance to the gated drive adds additional security.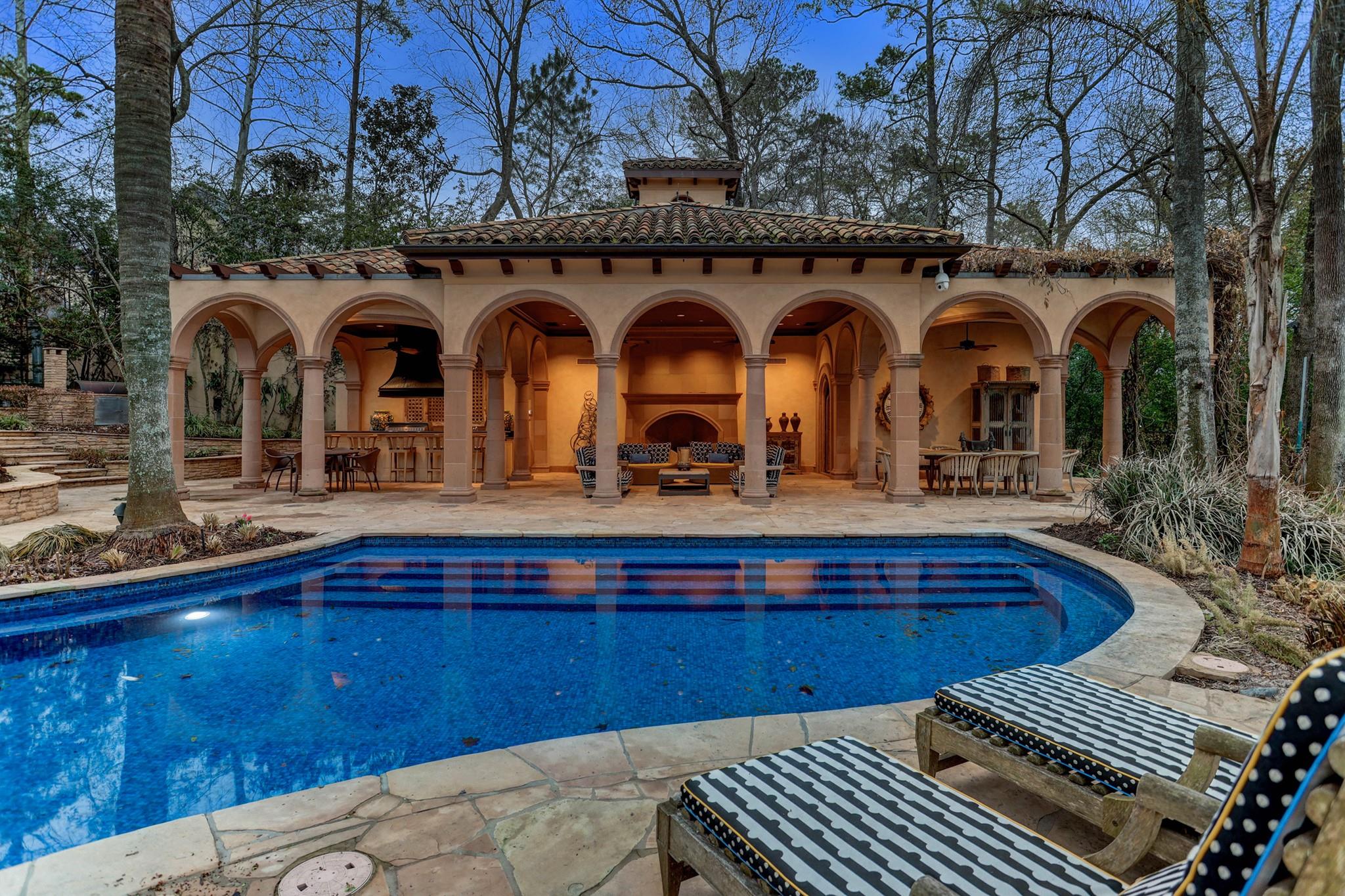 Pavilion - Overlooking the infinity edge swimming pool with hot and cold spa, the lavishly appointed pavilion includes a summer kitchen, fireplace, and living and dining areas, and provides spectacular views of the bayou and white sand beaches.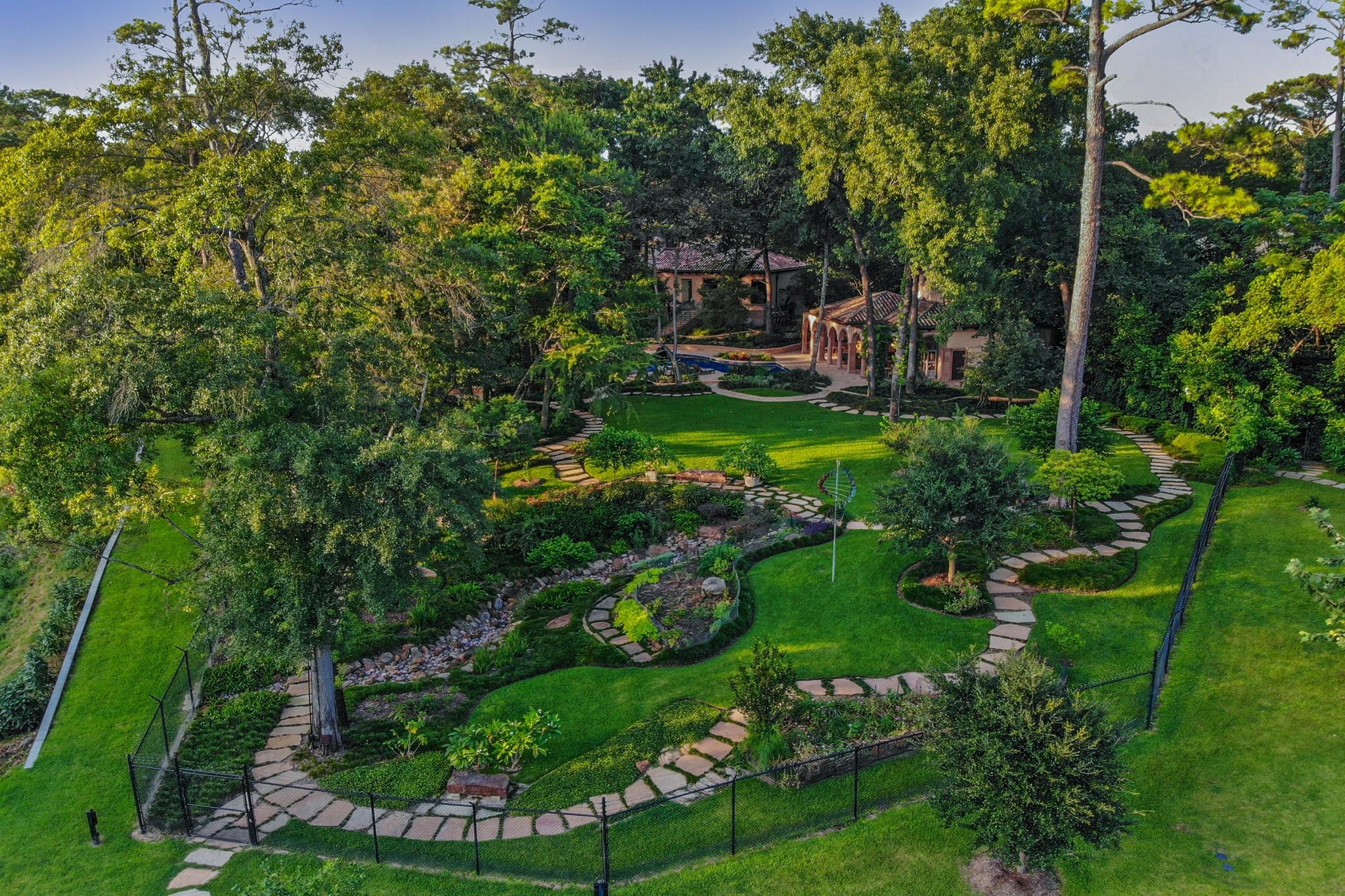 Aerial View - (61,280 lot, per HCAD) - An aerial view captures the stunning expanse of this exceptional property. Note that gardens extend down the slope of the bluff beneath the house.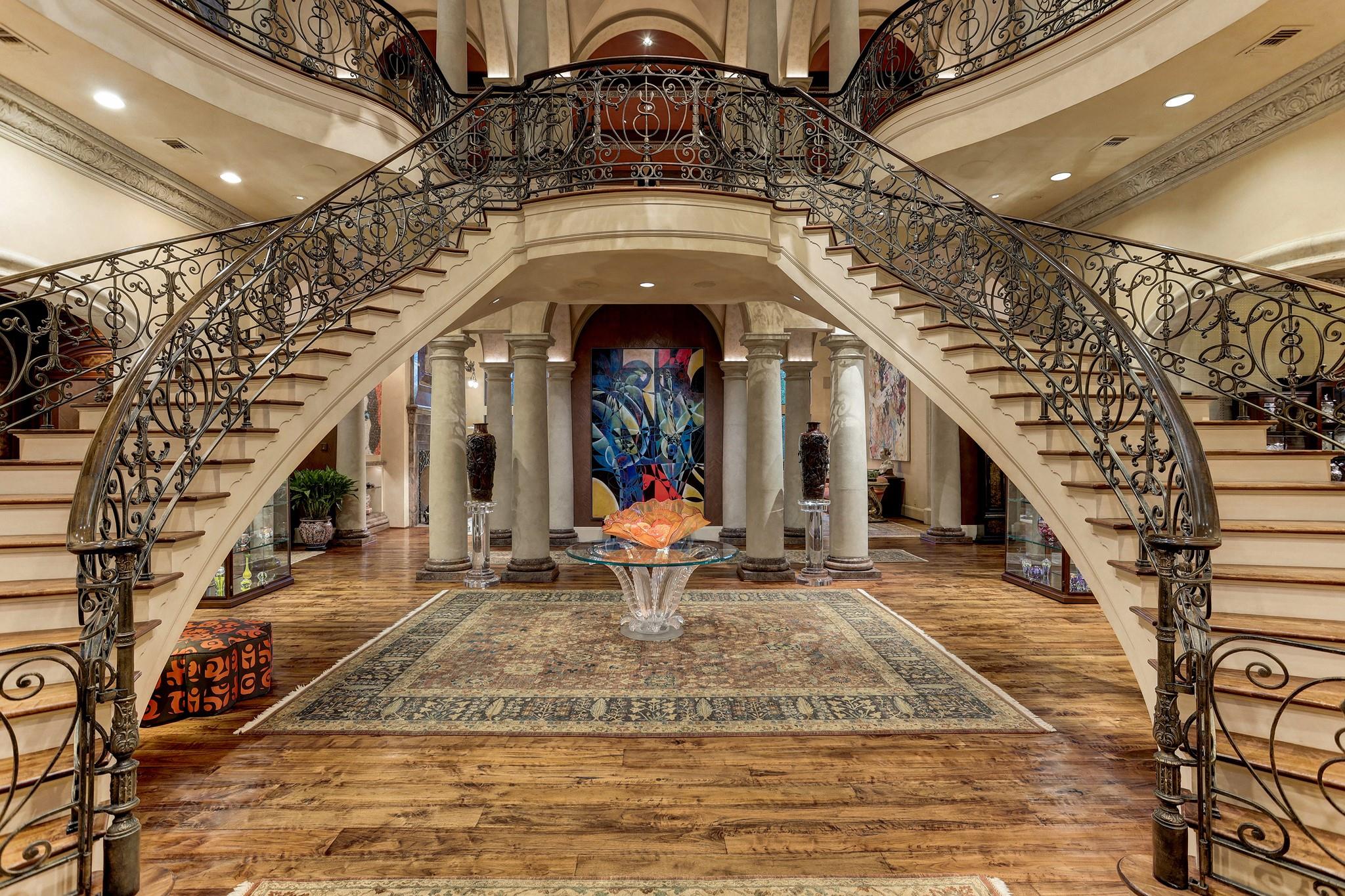 Reception Hall (32' x 28') - The palatial reception hall presents a duet of cantilevered staircases with custom wrought iron railing by Patina Metals, gold leaf dome center and cove lighting. 7" wide plank, hand-distressed walnut flooring.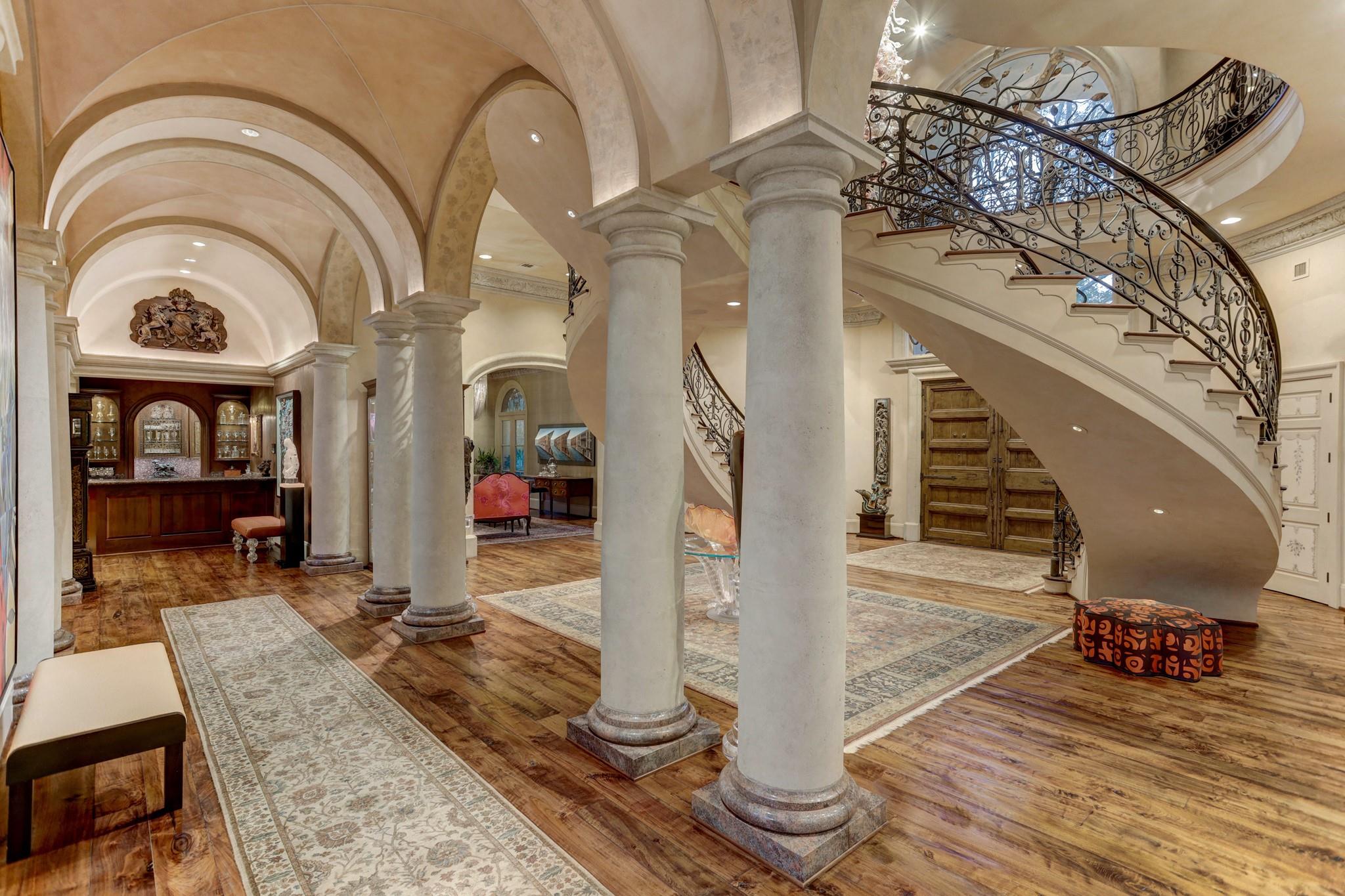 Reception Hall / Gallery - A gallery behind the reception hall connects the home's two main wings. Double door entry made of South American antique solid hardwood set in cast stone casing. Note polished plaster and extensive artisan painting by Decorative Arts Houston. The bar is shown at far end of the gallery.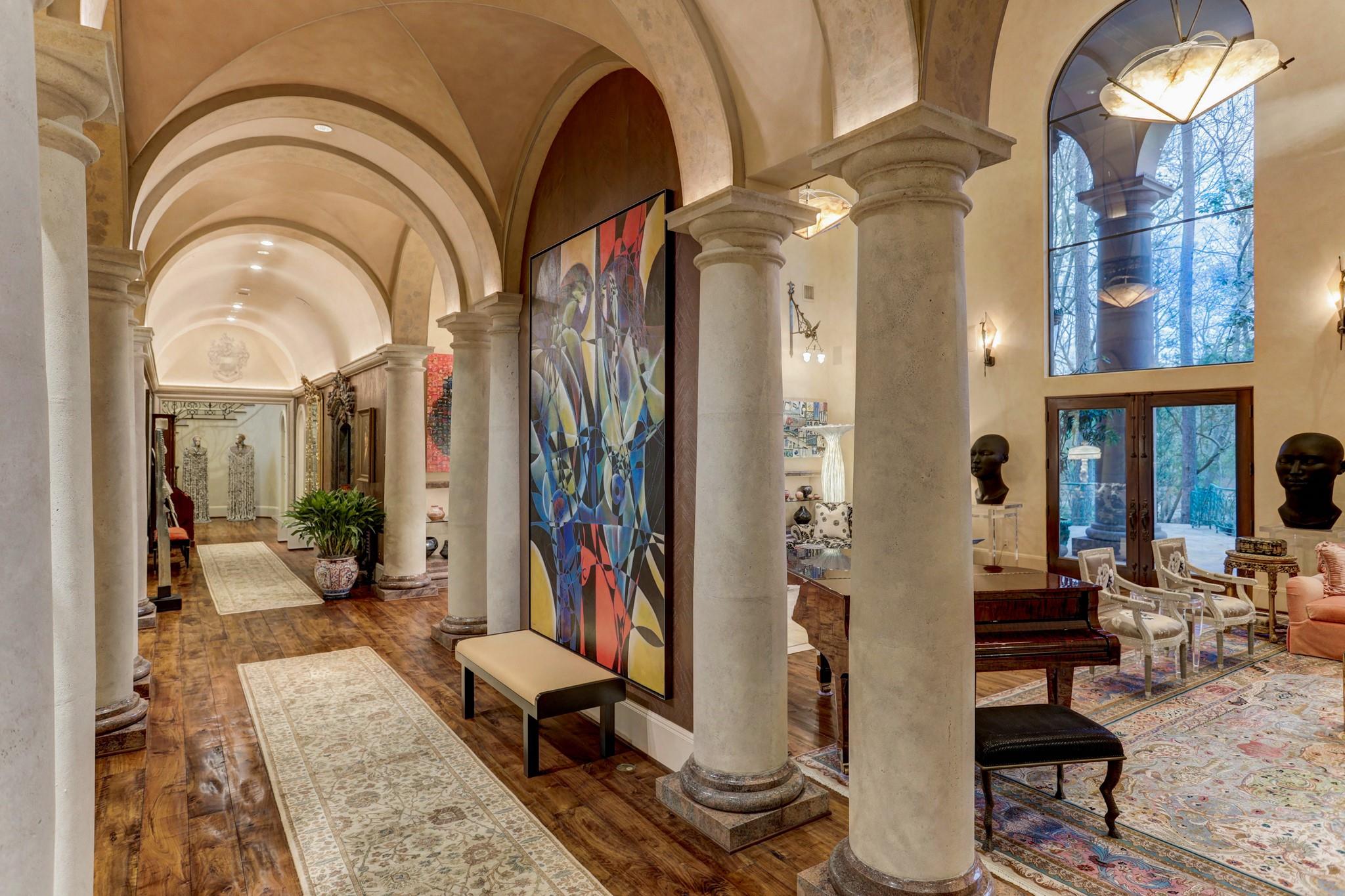 Gallery / Living Room - The arcades that frame the gallery allow free access into the magnificent living room (at right). Far end of the gallery leads to the primary suite. Cast stone columns with Dakota mahogany granite base supports.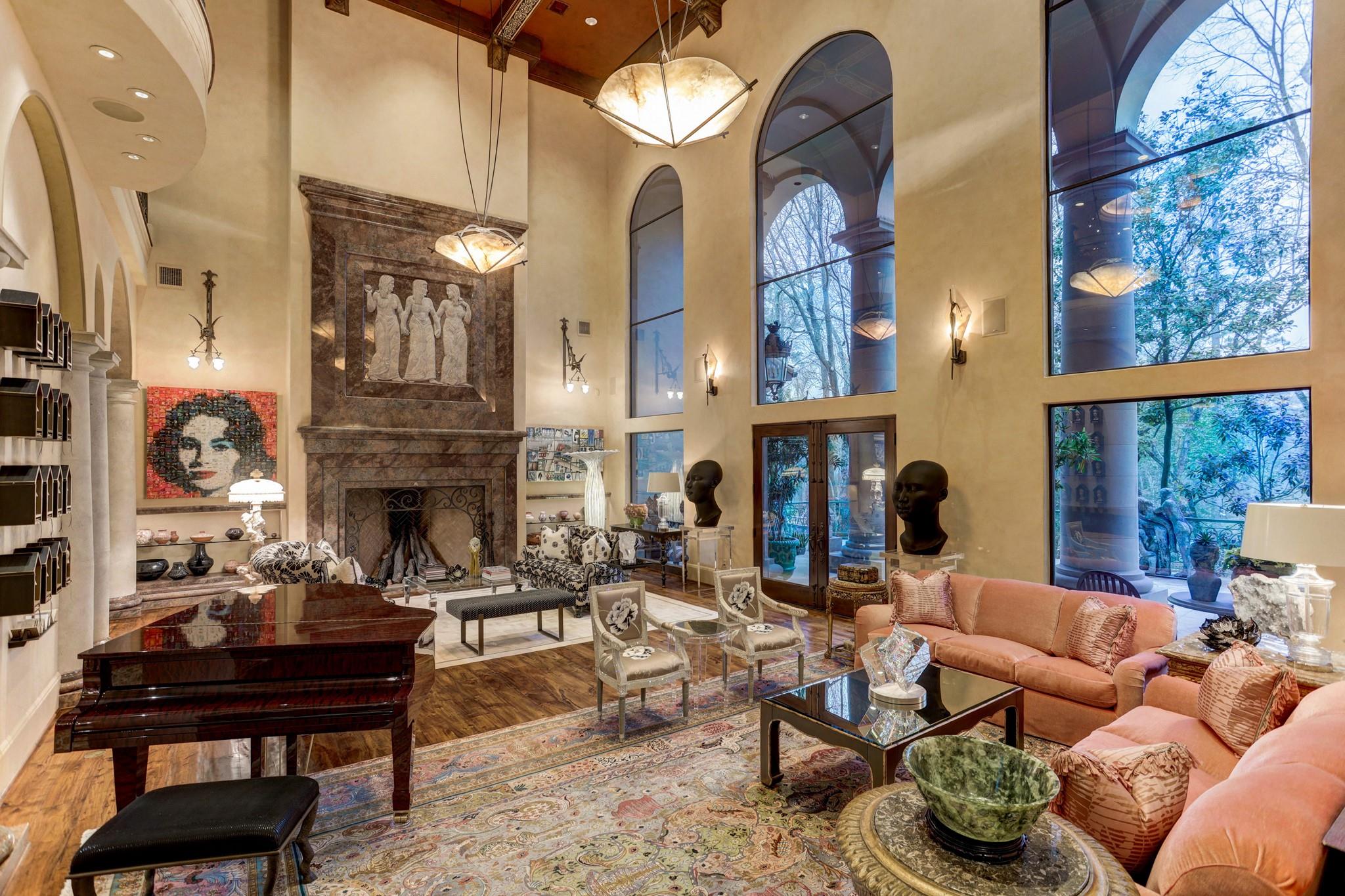 Living Room (34' x 24') - In the double-height living room, a stunning Art Deco-style Dakota mahogany granite relief depicting the Three Graces soars above a Dakota mahogany granite fireplace, both reclaimed from the demolished historic Shamrock Hotel. 8' steel frame windows with 15' arched clerestory windows above overlook the Rear Terrace.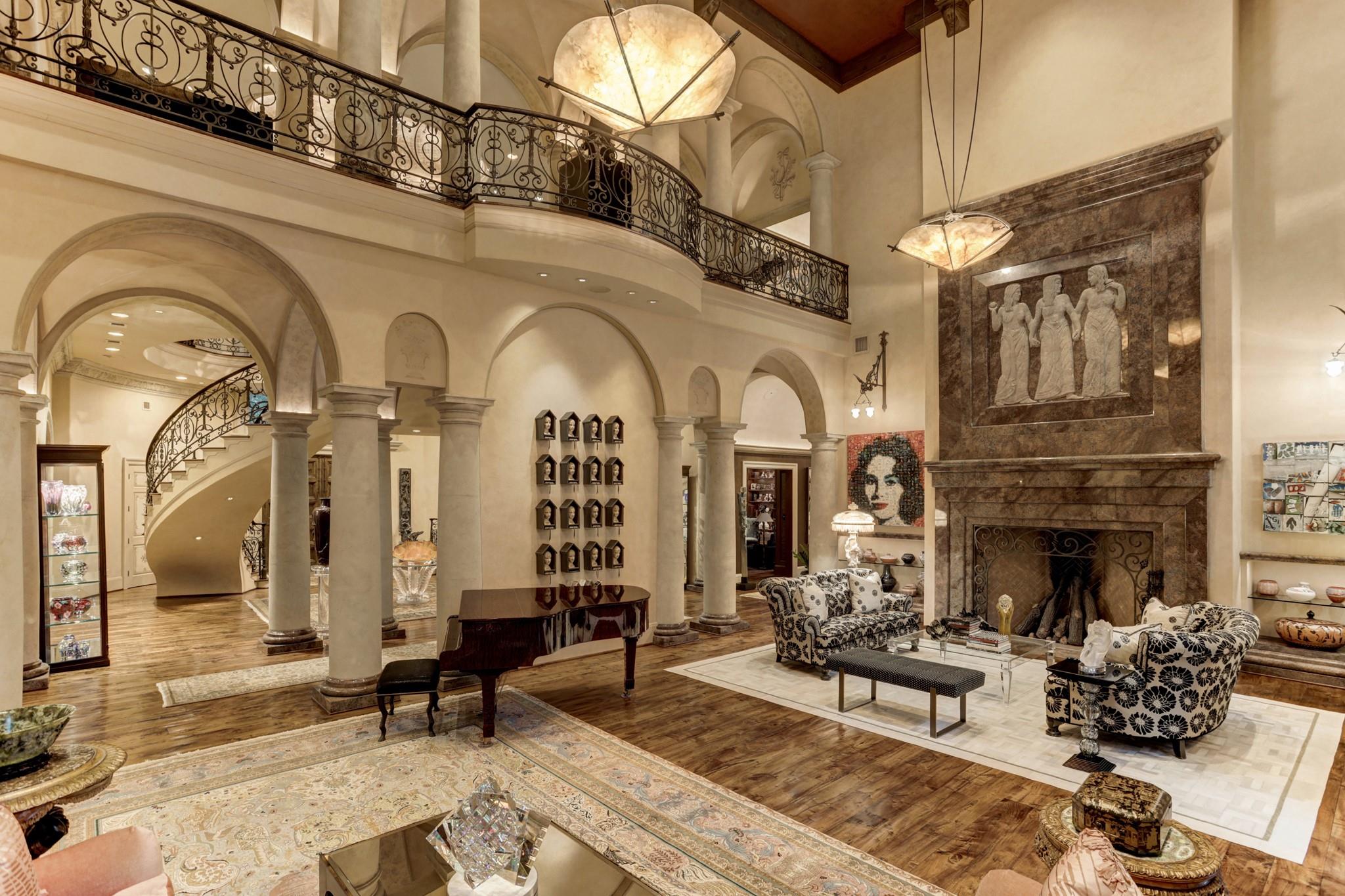 Living Room (34' x 24') - An alternate view of the living room reveals the entrances from the reception hall and the inner balcony along the second-floor gallery.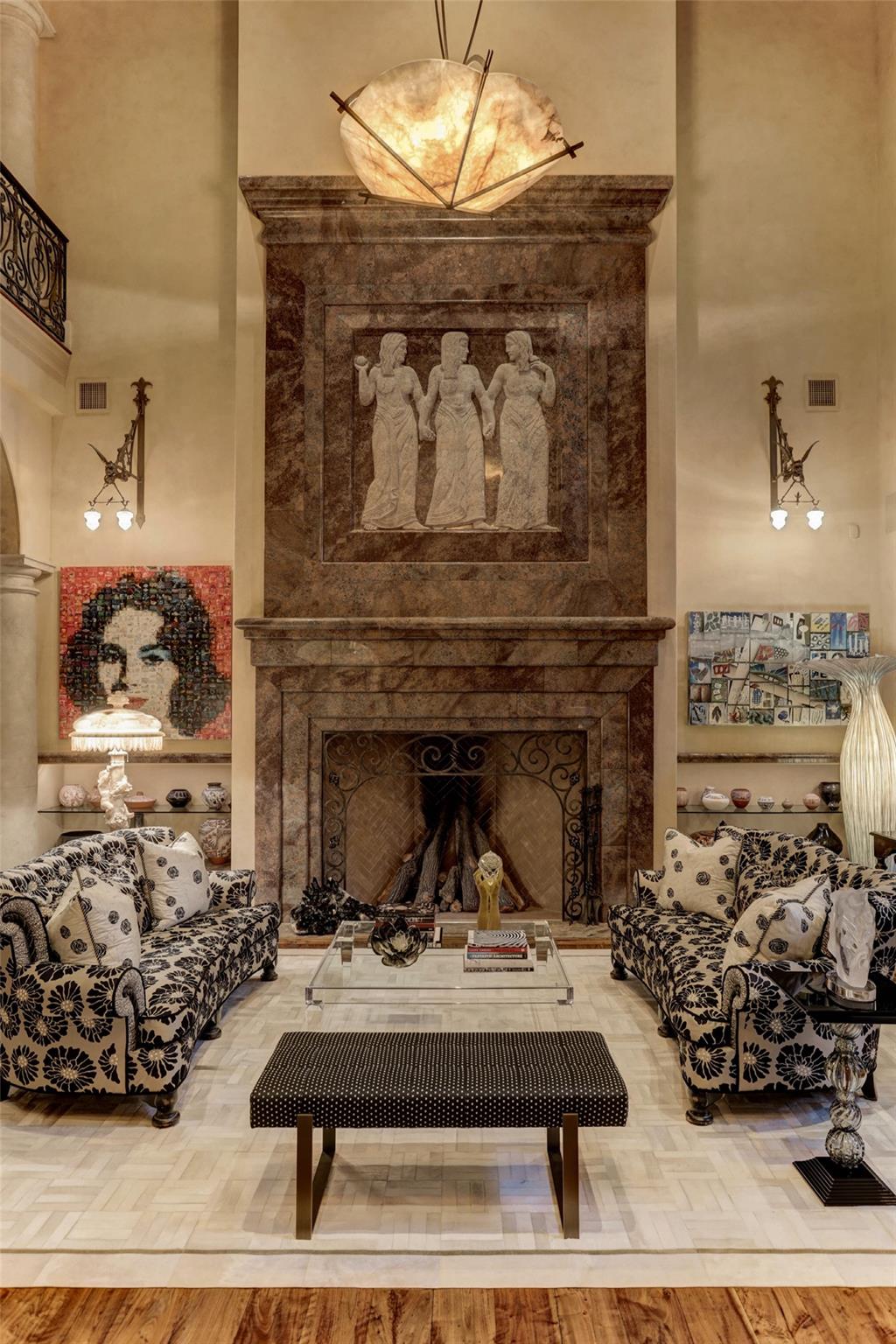 Living Room (34' x 24') - The Three Graces; These monumental bas reliefs are sculpted from Dakota mahogany granite, a stone unique to the United States. Gas log and wood burning fireplace, herringbone brick firebox, granite mantel flanked by two 2-candle gargoyle wall sconces from Lucerne, Switzerland. Two built-in glass display shelves with backlighting.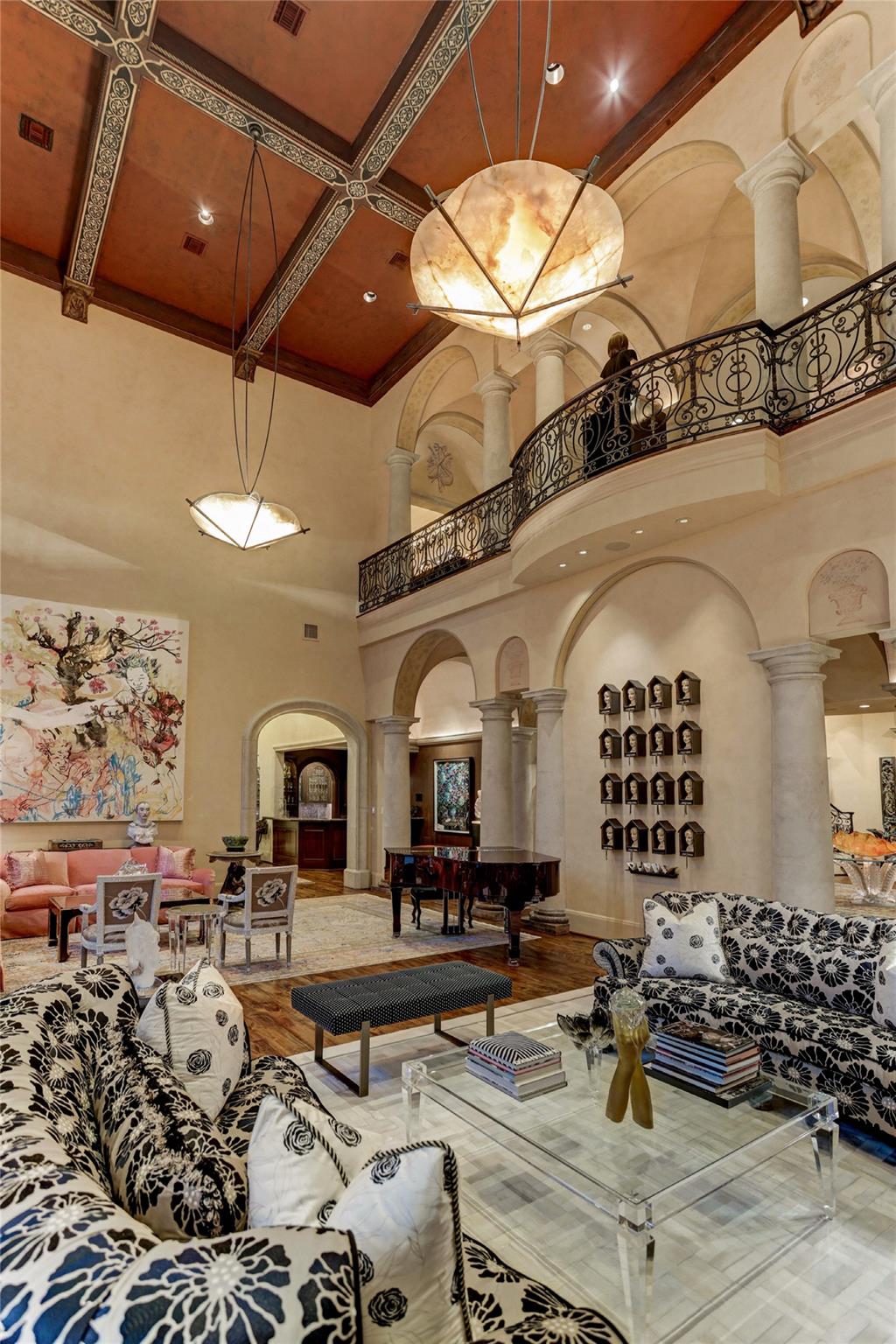 Living Room (34' x 24') - A view of the soaring living room ceiling reveals the Renaissance-inspired painted decorative box beams with stencil detailing and figurative supports.
Library (23' x 17') - The library, which sides the reception hall, features polished Bubinga wood paneling and cabinets. 14' ceiling with multi-piece box seams, two fixed French doors with arched transoms above, built-in entertainment center with pull-out storage. Note the Beaux Arts carved wooden fireplace with hand carved walnut mantel, sourced from Red Baron Auction House, Georgia.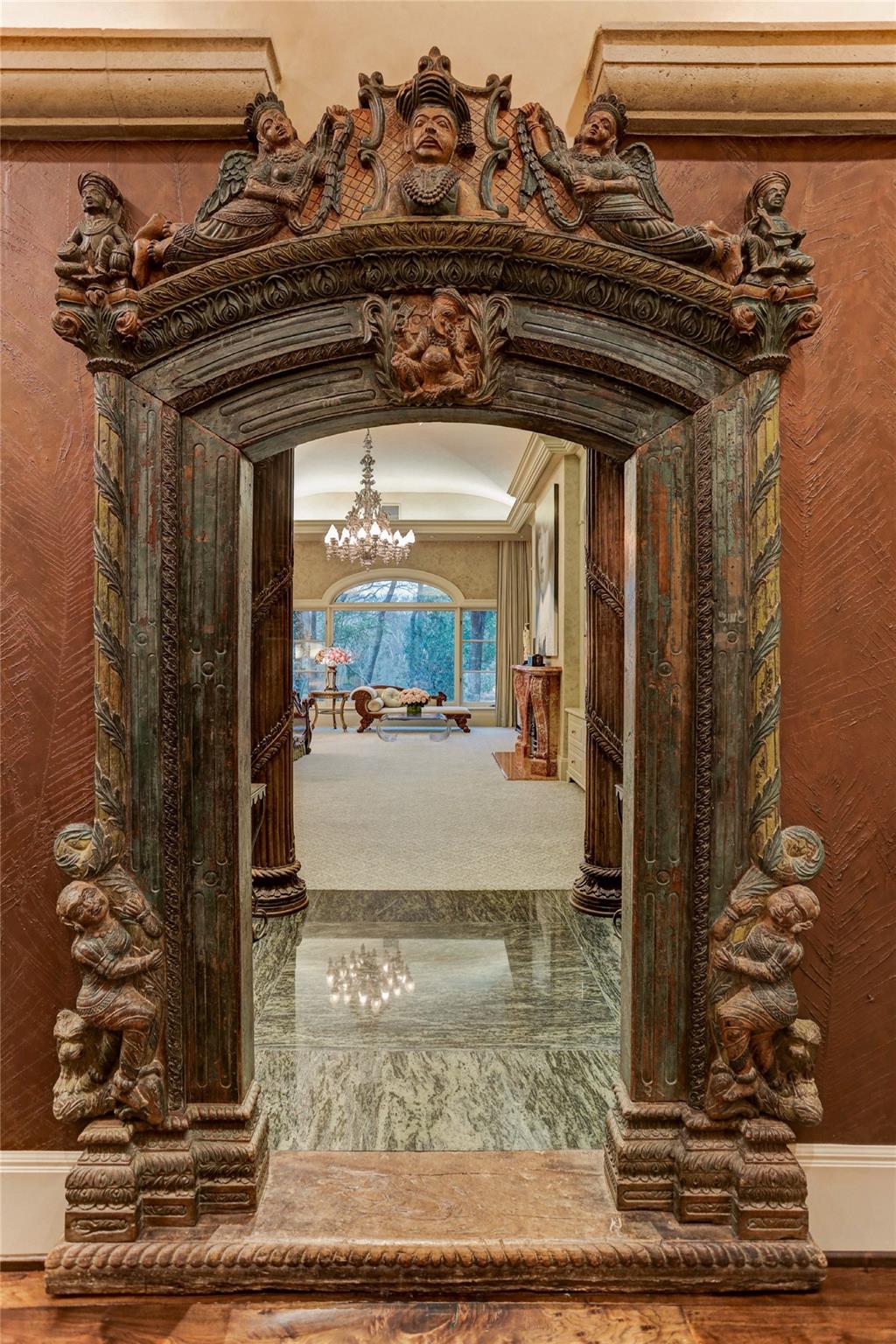 Doors to Primary Suite - These magnificent 18th-century painted teak doors with hand-carved millwork casing guarding the primary suite were sourced from a Jain temple in Northern India. They lead to a vestibule entrance which features marble slab floors, Silk Dynasty wall coverings, and two 17th Century wooden columns with 10" stone bases.
Primary Suite (30' x 21') - The serene primary bedroom suite on the first floor overlooks the gardens through Palladian and casement windows which have remote controlled Lutron blackout drapes. Amenities include an antique rose marble fireplace sourced in Europe flanked by arched display cabinets and a media cabinet with Crema Marfil marble countertops. Note vaulted ceiling.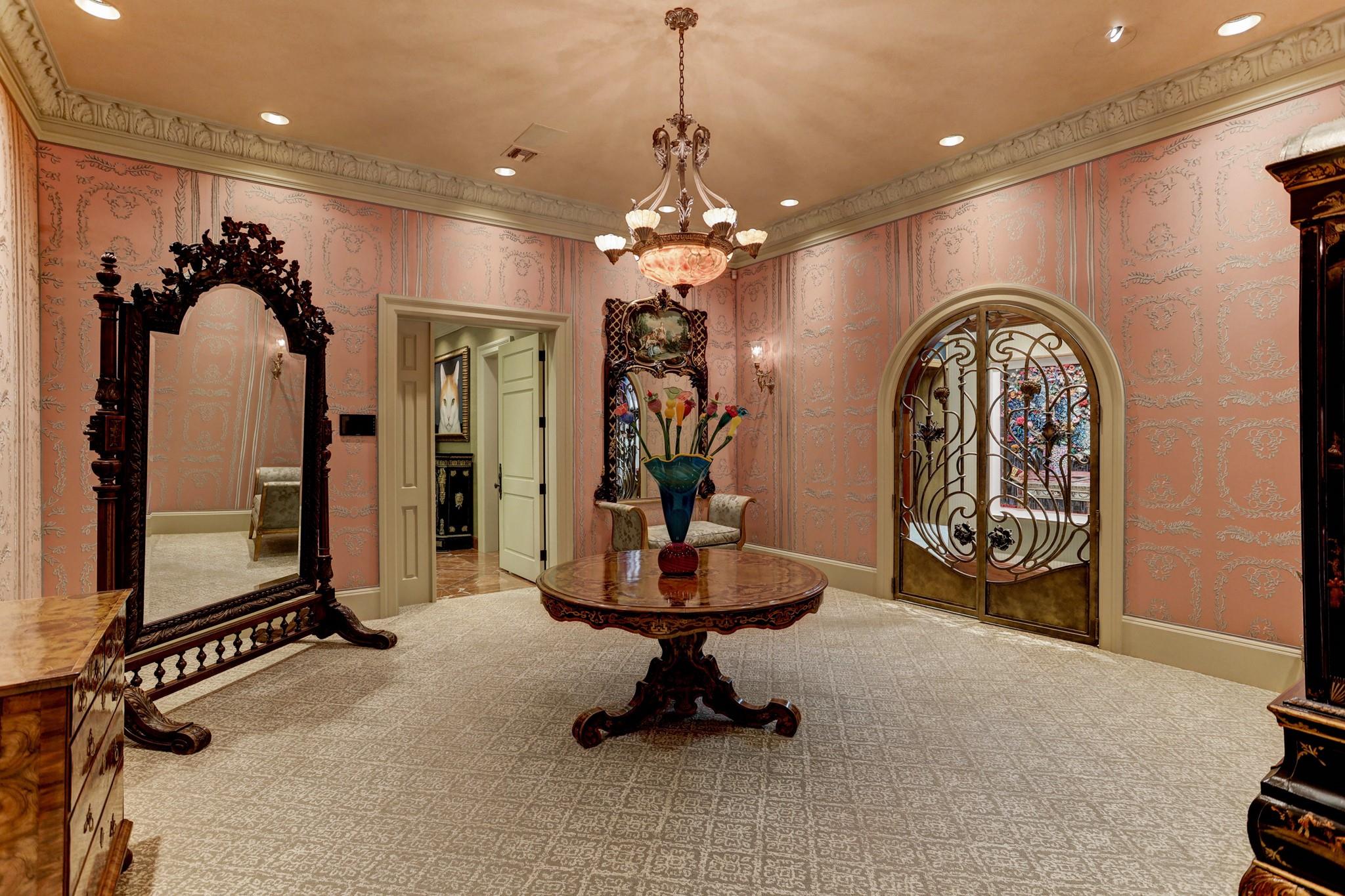 Primary Suite Dressing Room (19' x 18') - A true luxury, this spacious, Rococo-inspired dressing room features custom bronze doors that open into the main closet. Elitis silk upholstered walls and welting and two Victorian era (circa 1860-1880) gilded bronze wall sconces.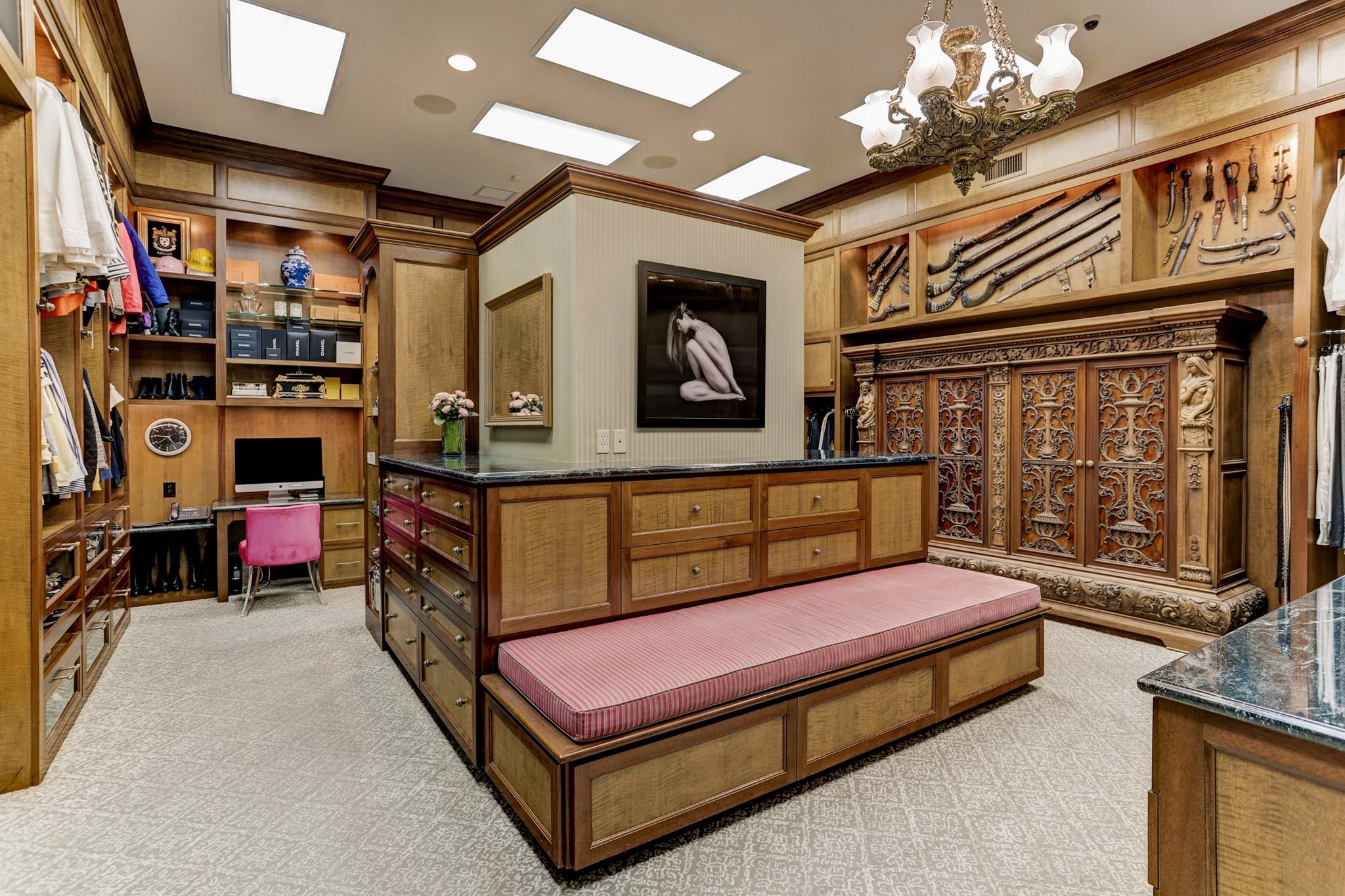 Primary Closet (26' x 21') - This expertly designed closet offers custom storage fitted with Edgar Berebi hardware, floor-to-ceiling mahogany paneled walls and cabinetry, and island dressers with marble slab countertops. Ormulu Colza chandelier from Denton Antiques, London (circa 1803). Note desk/sitting area at rear and antique carved cabinet at right.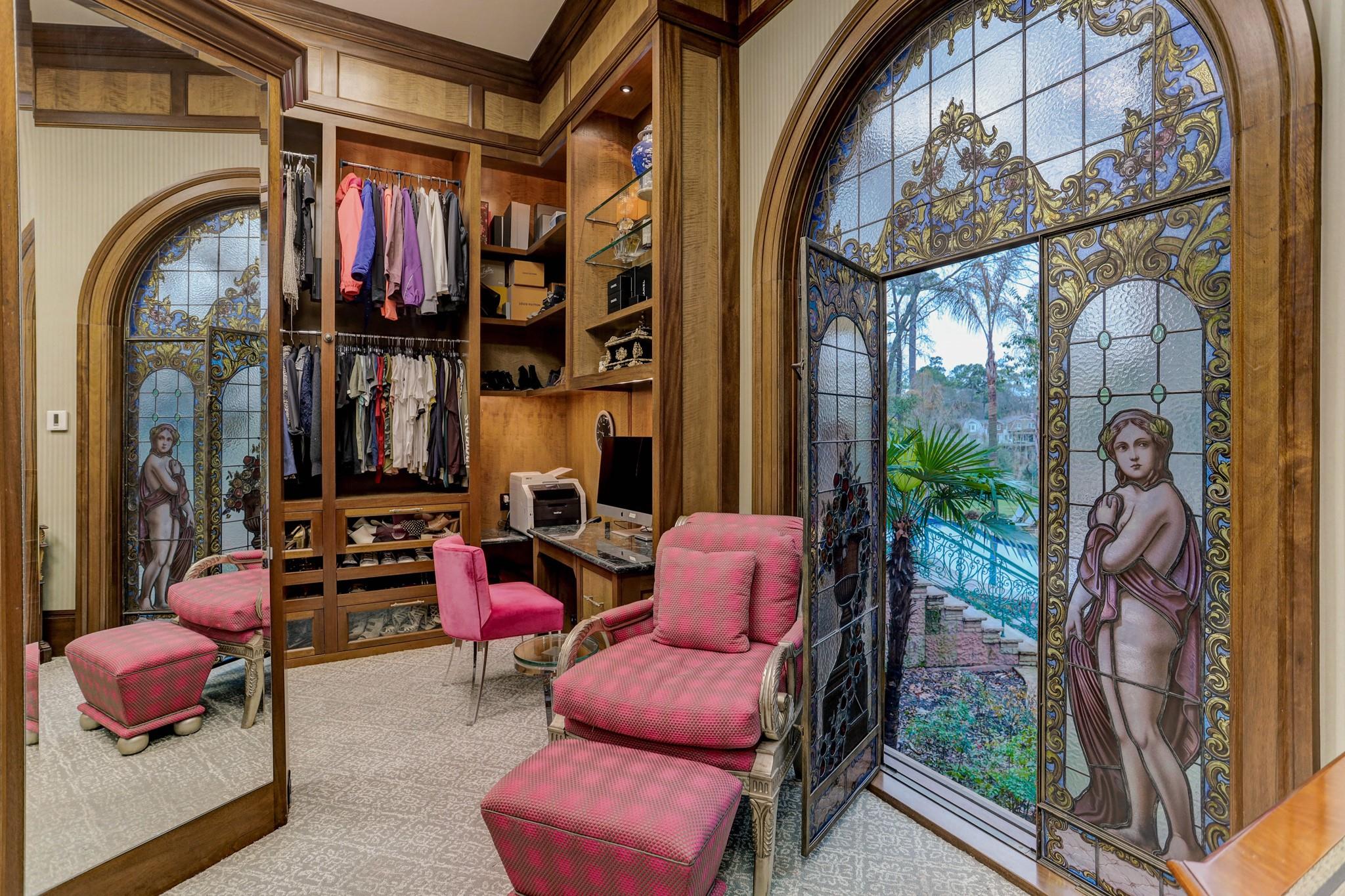 Primary Closet (26' x 21') - A closer look at the primary closet's desk and sitting area reveals the triptych mirror and stained glass window panels with iron frame sourced from Red Baron Auction House, Georgia.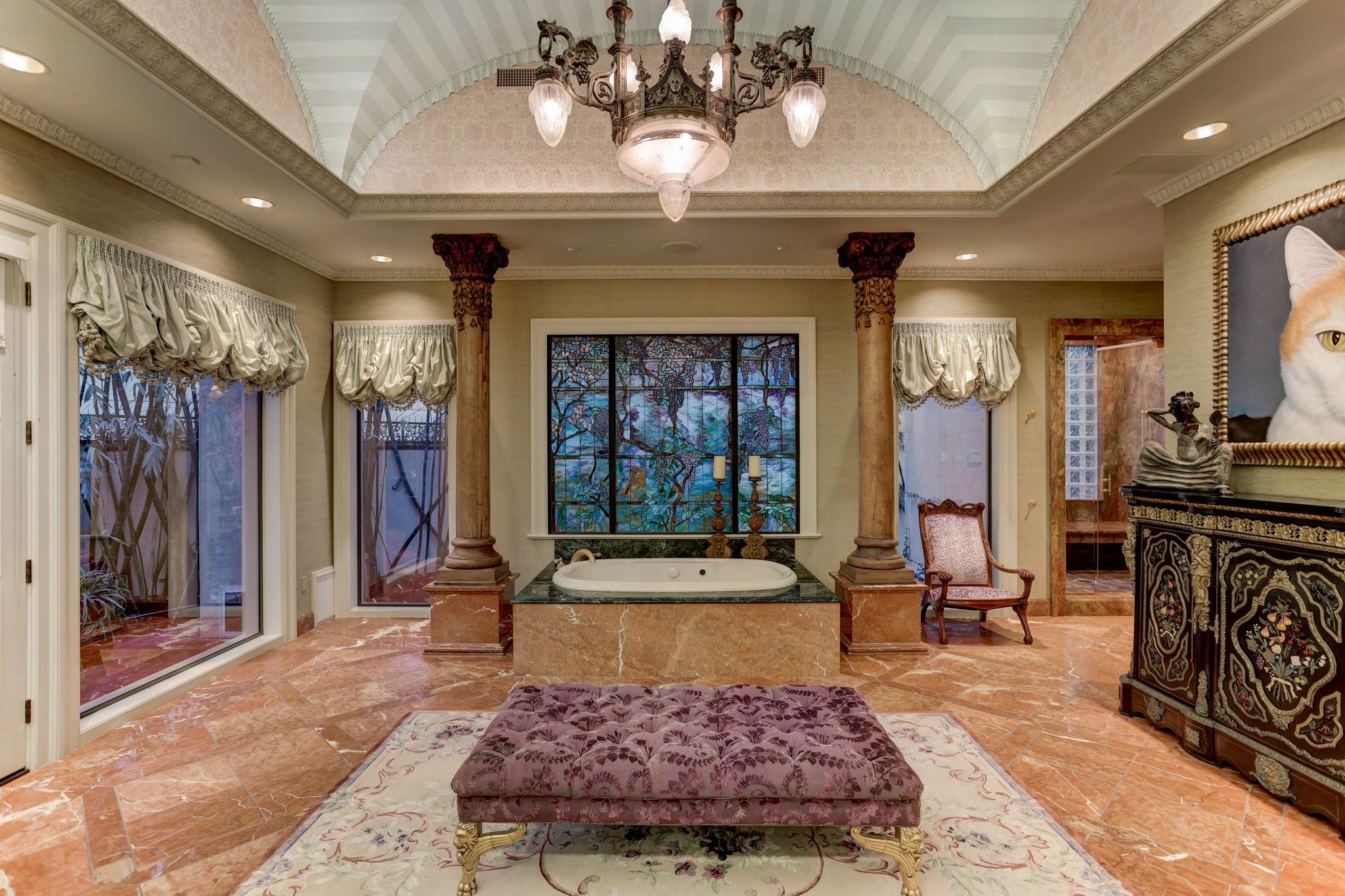 Primary Bath (21' x 20') - This lavishly appointed bath features Rojo Alacante marble flooring, upholstered groin-vaulted 14' ceiling, a raised Kohler spa tub flanked by two 18th century Portuguese style carved teak columns, and seamless glass-entry marble shower.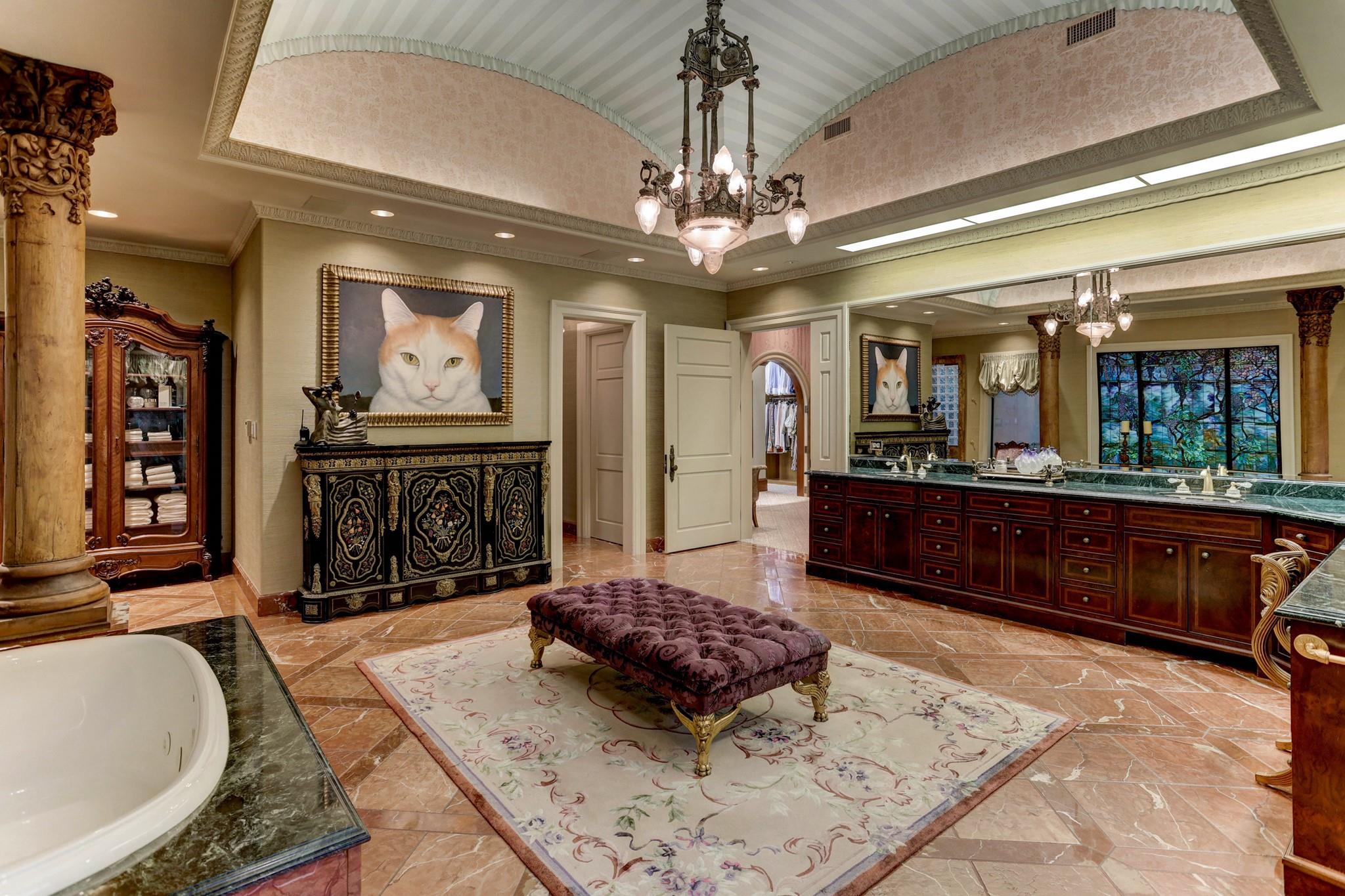 Primary Bath (21' x 20') - An alternate view of the primary bath reveals the elaborate carving on the columns that flank the tub, Emperor Green marble slab countertops, dual undermount sinks porcelain sinks with Phylrich faucets, and hand stencil design on the groin-vaulted ceiling.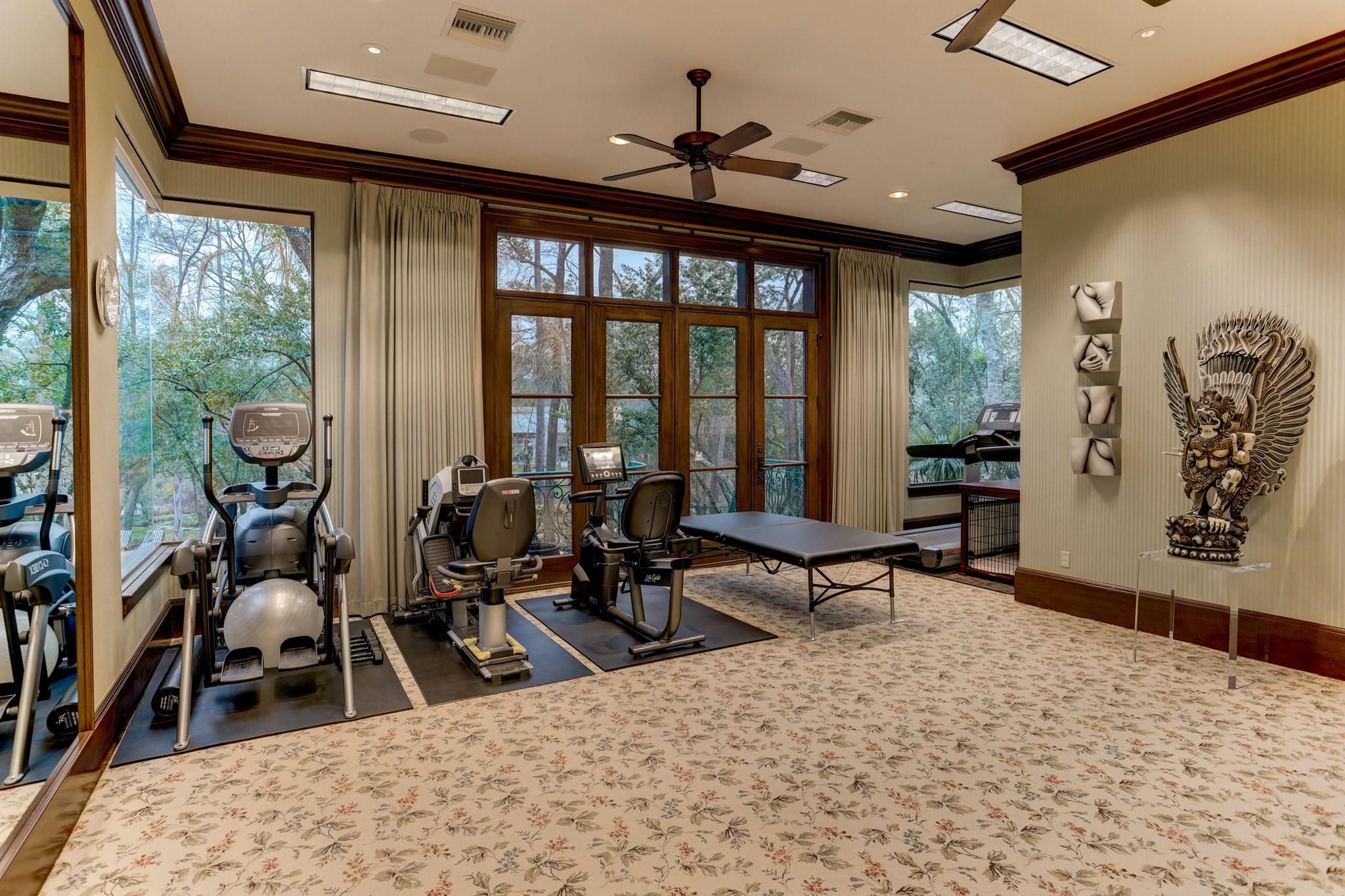 Gym (30' x 19') - The gym adjoins the primary bedroom. Features include a juice bar with stainless ice maker/mini-refrigerator/microwave, mirrored walls, two full-lite corner butted glass windows, and French doors that open to the Rear Terrace.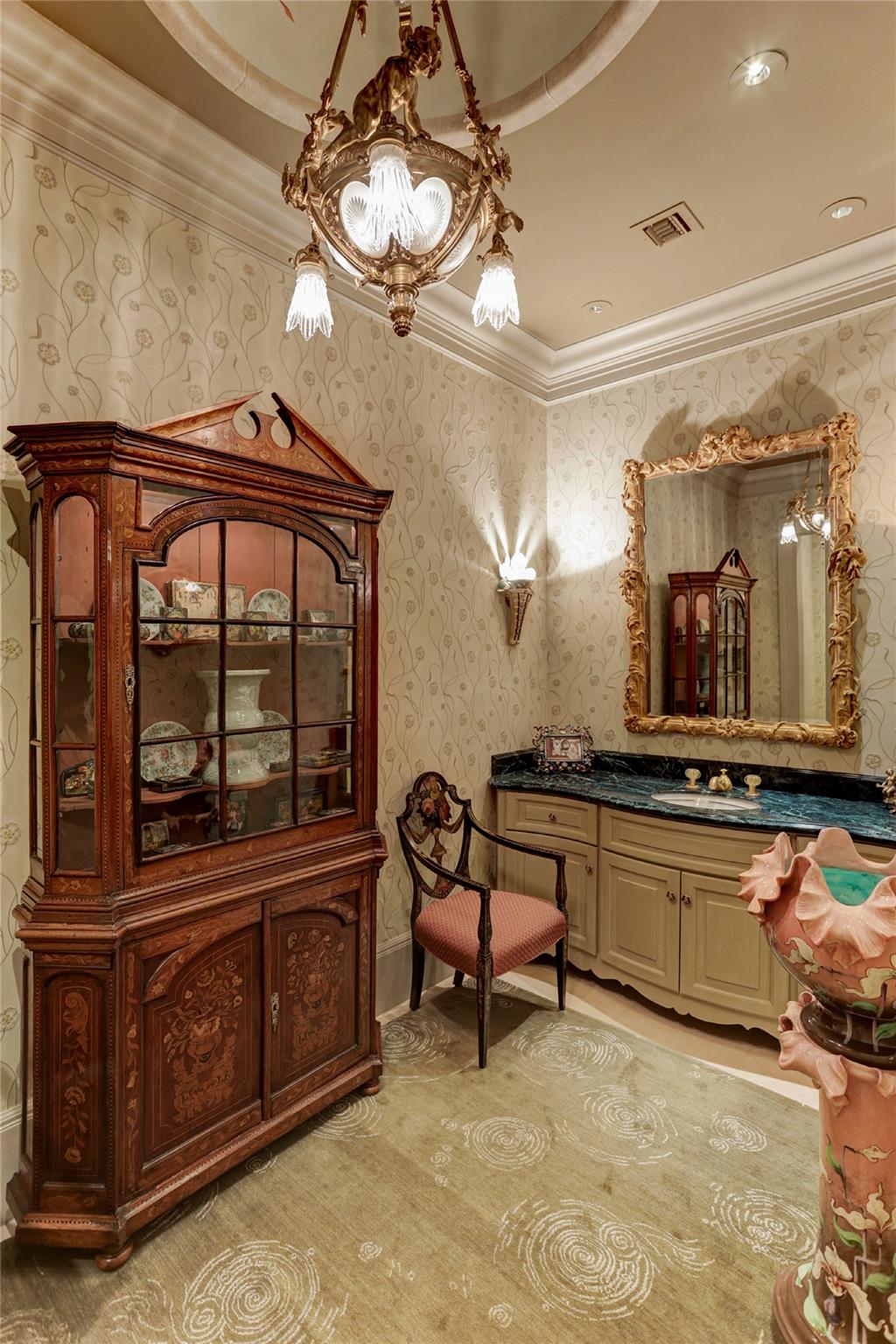 Powder Room - First Floor (16' x 6') - This first-floor powder room offers Green Empress marble countertop, Silk Dynasty floral wallpaper, 10' ceiling with hand painted "Swallows" domed center, antique brass chandelier, and a Crema Marfil floor.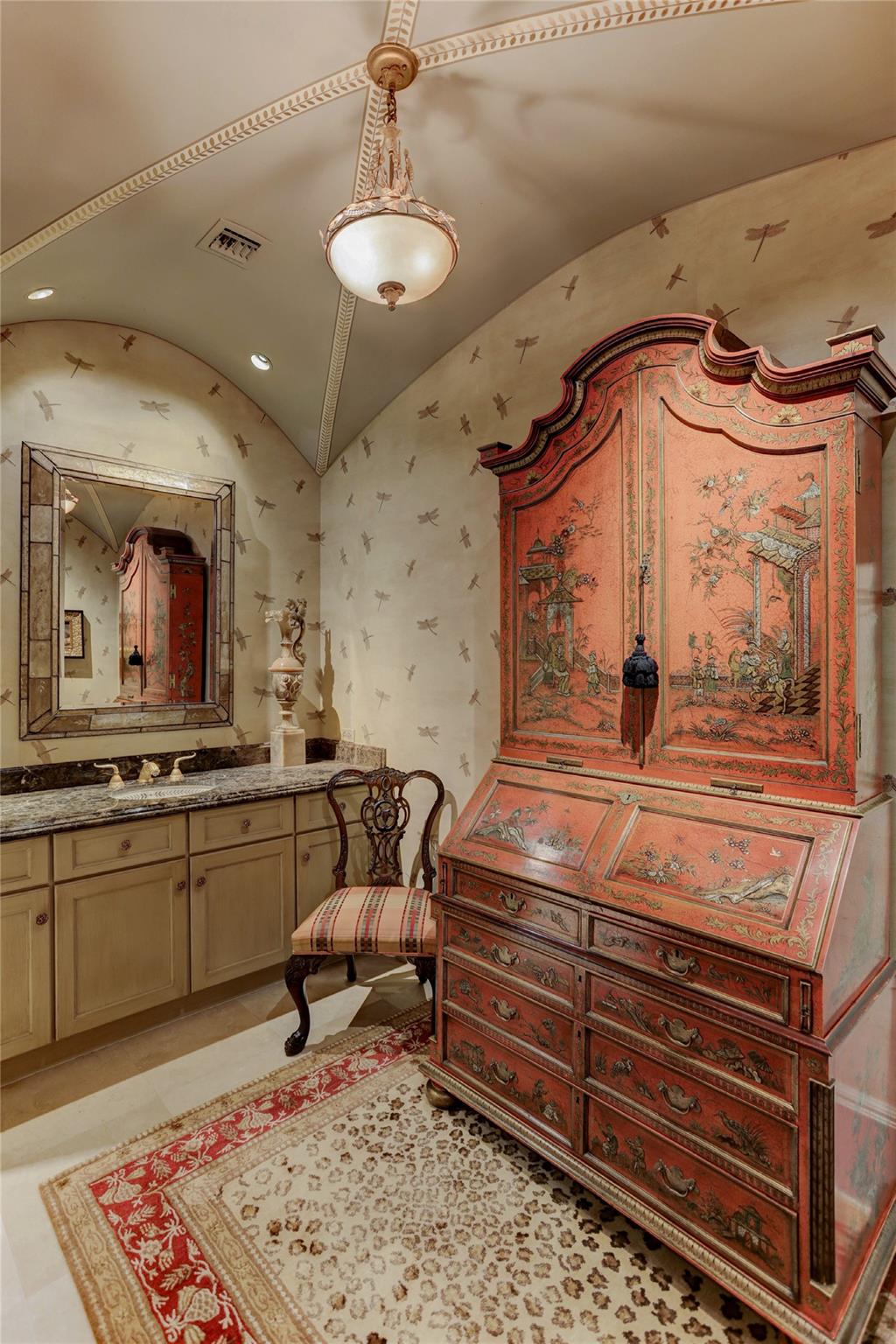 Powder Room - First Floor (12' x 6') - A vaulted ceiling with hand painted gold leaf inlay, Dark Emprador countertop, Silk Dynasty dragonflies wallpaper, and a Crema Marfil floor distinguish this first-floor powder room.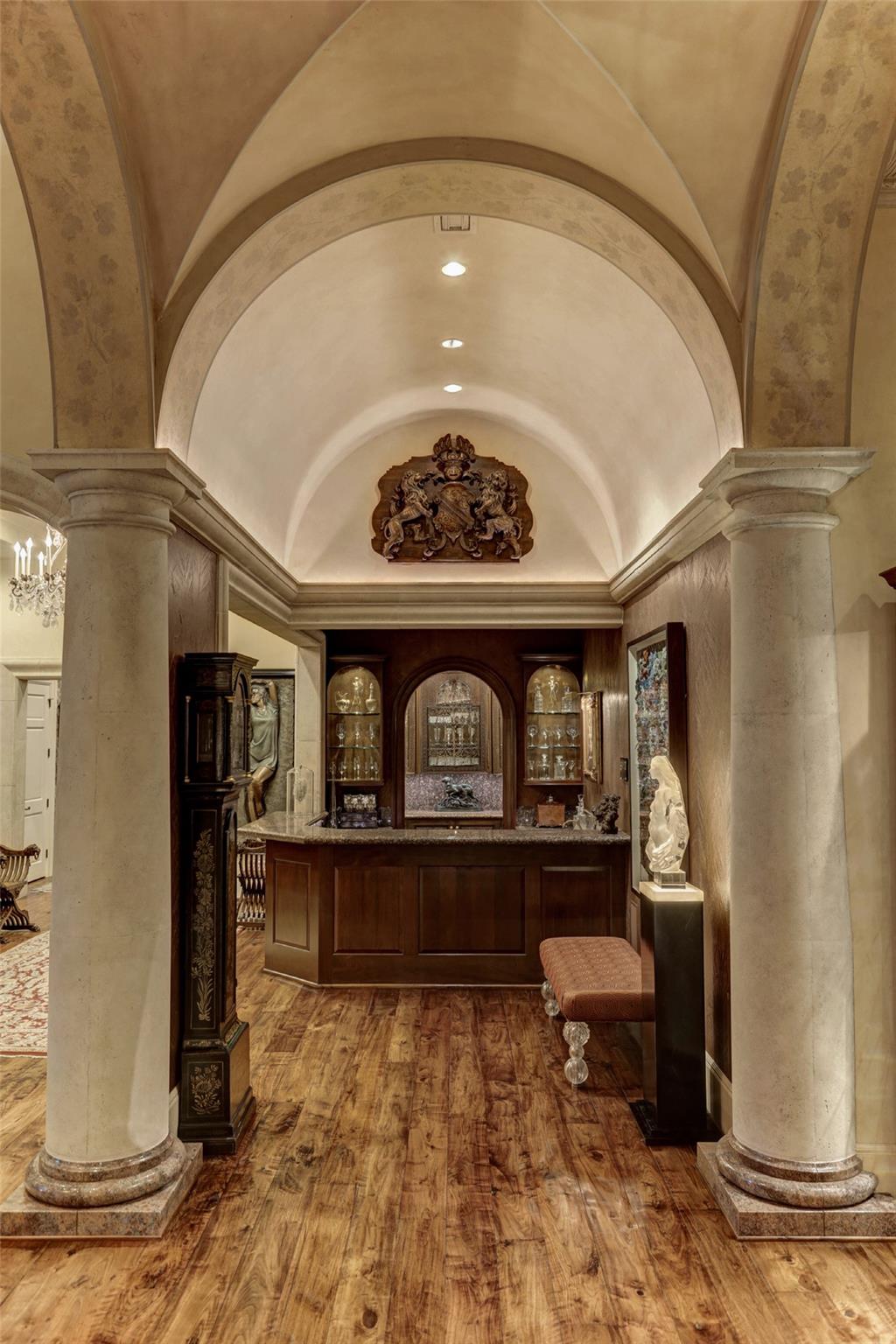 Bar (8' x 8') - Positioned in the first-floor gallery, the custom mahogany bar has a Tiffany-style ceiling, Silk Dynasty Pteris Collection textured bronze wall coverings, and lighted glass-front cabinets.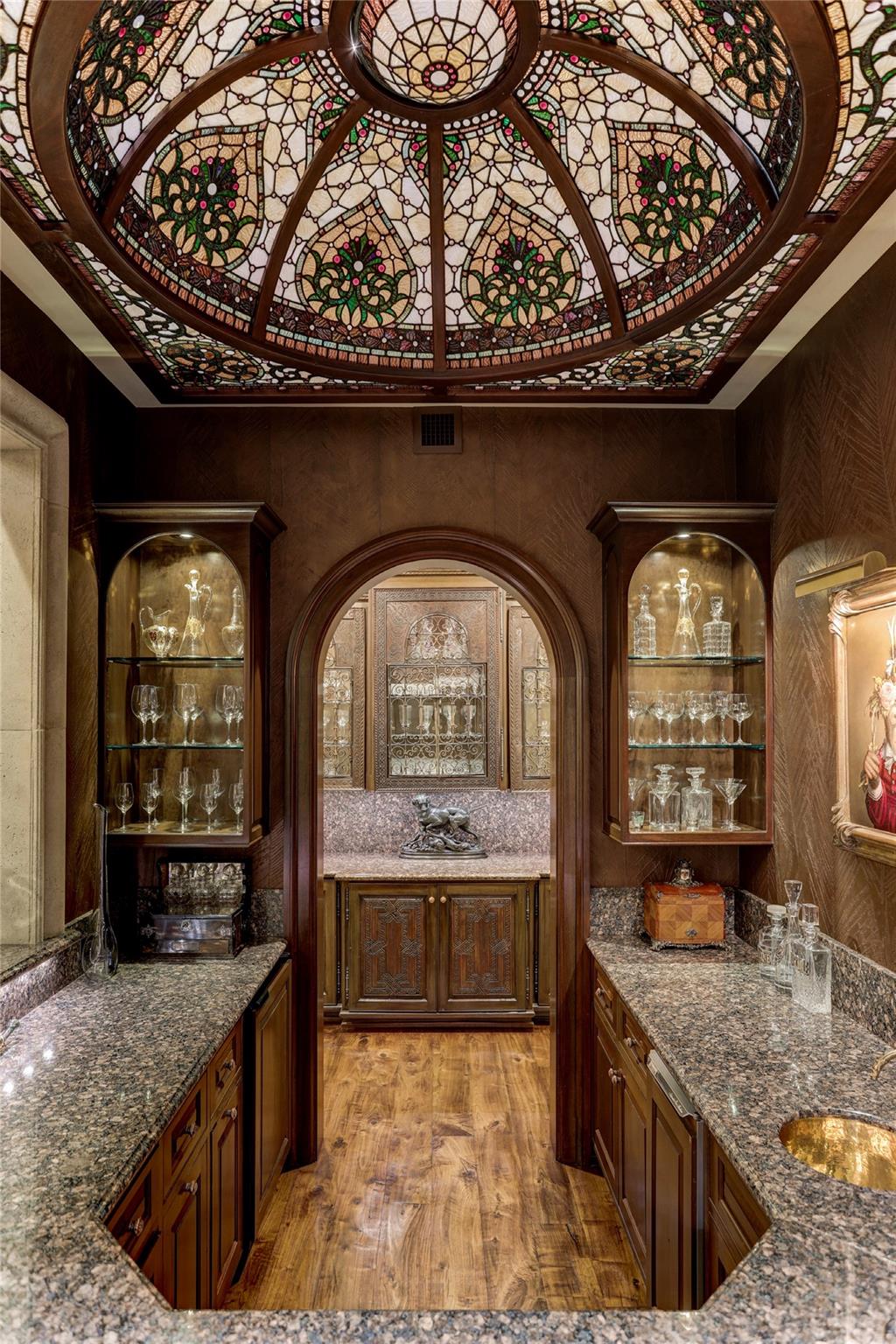 Bar (8' x 8') - A view of the bar's Victorian style stained and jeweled glass dome ceiling with backlighting, granite slab countertops/backsplash, and hand-hammered copper sink. Under counter mini-refrigerator and ice maker. The open doorway reveals the butler's pantry.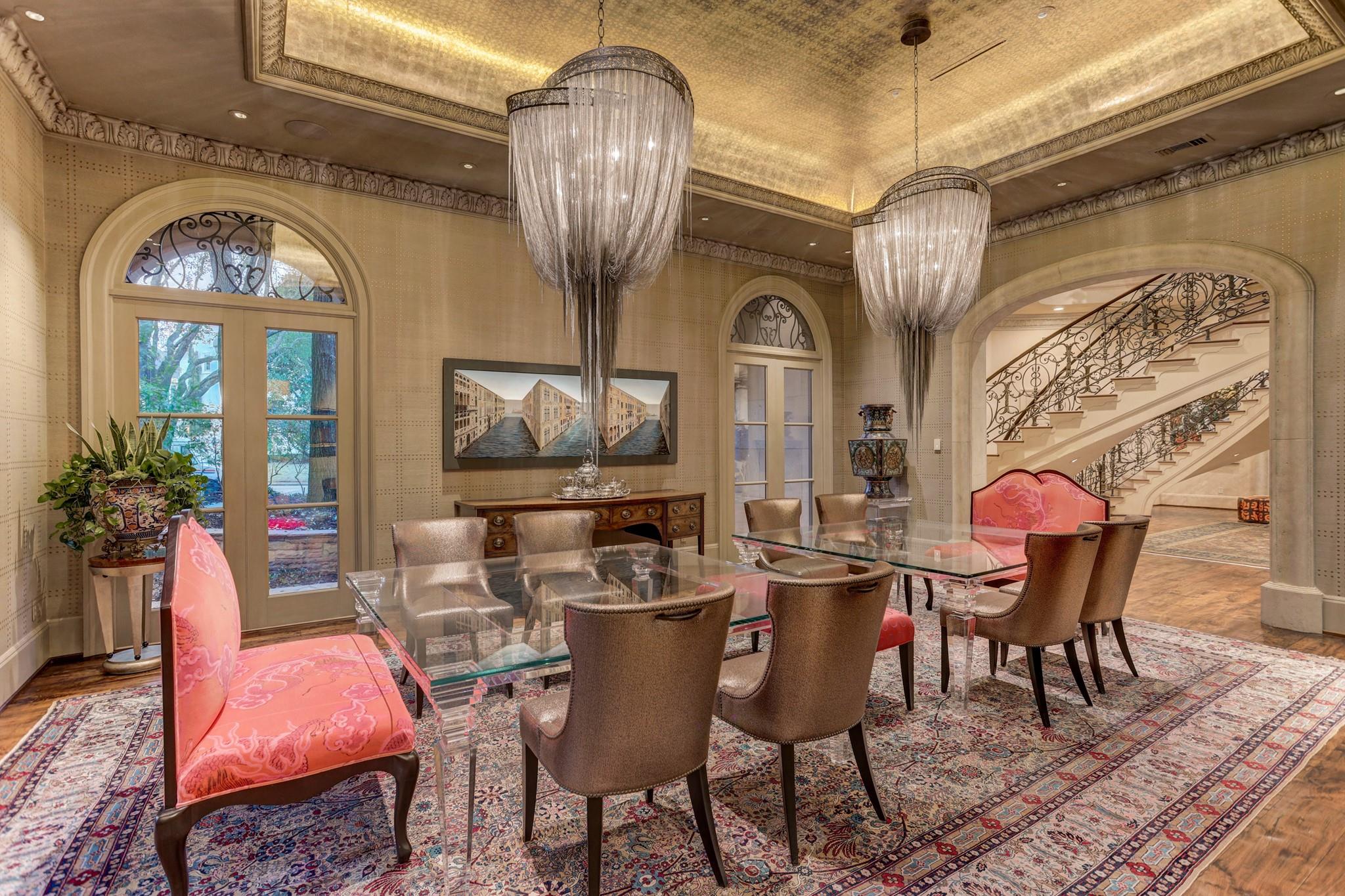 Dining Rom (28' x 20') - An arched opening connects the dining room to the reception hall. Phillip Jefferies Artesian Gold fabric wall covering, 10" plaster crown moulding, gold-leafed ceiling created by Decorative Arts Houston. Tall Palladian windows view the front loggia.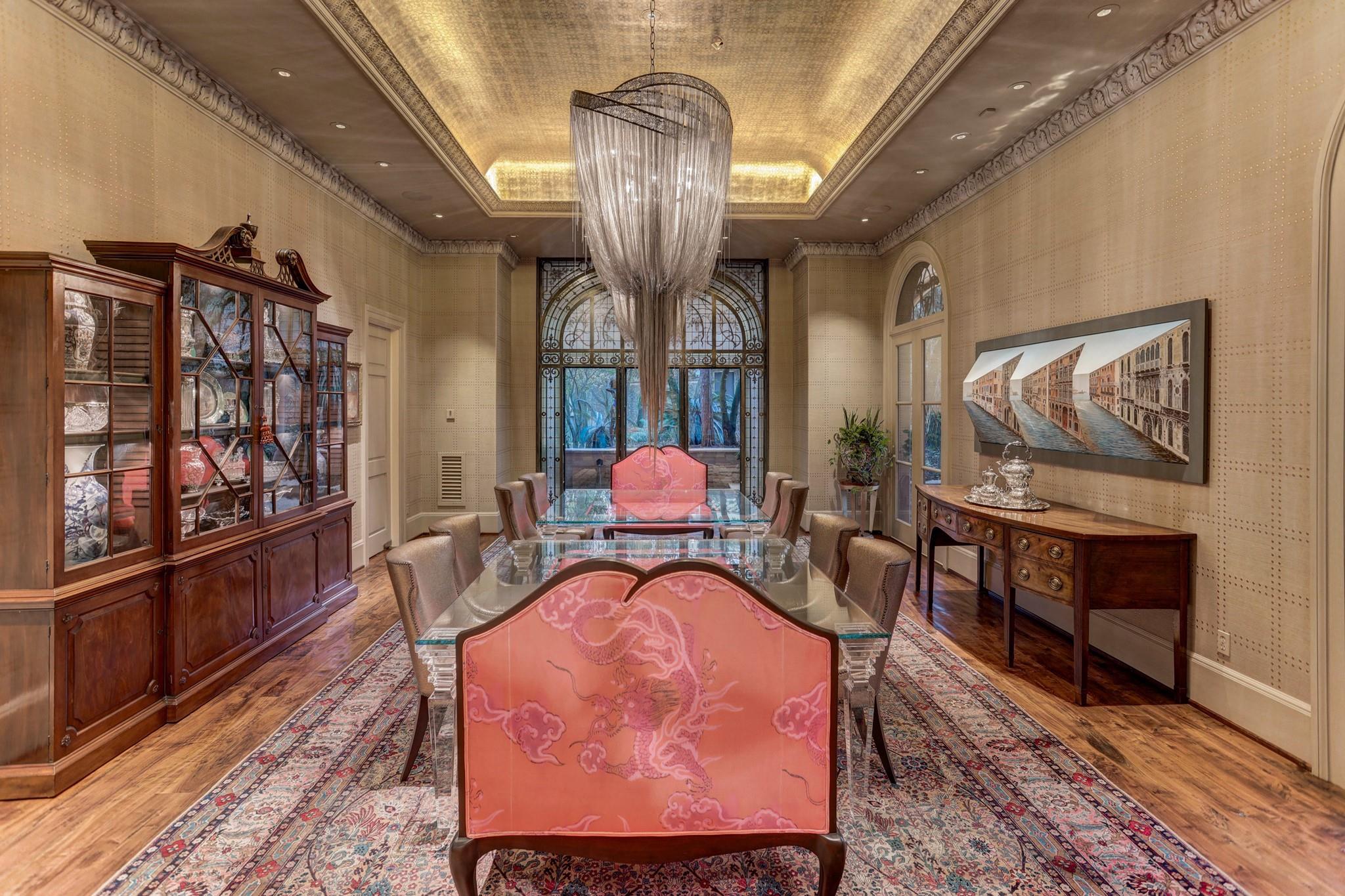 Dining Room (28' x 20') - The rear wall of the dining room has a glass window fronted by floor-to-ceiling Art Nouveau stained glass panels sourced from a Belgian conservatory. Crafted door installed with exterior seamless glass 'wall' for temperature and humidity control.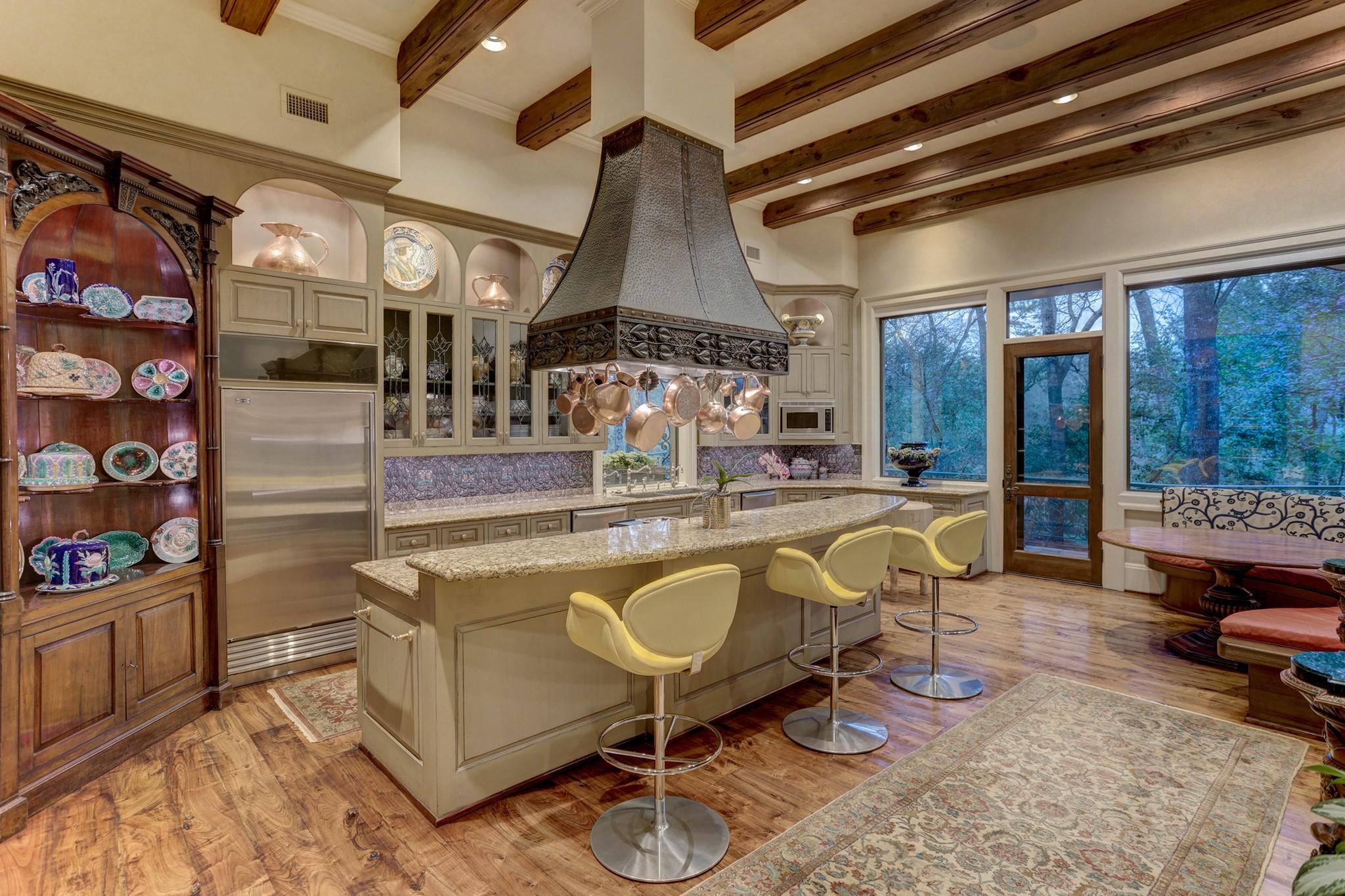 Kitchen (27' x 20') - The spacious kitchen features 14' ceilings and is appointed with a bespoke range hood, artisan-created hand painted 12" tile backsplash, Grallo Florito granite countertops, Edgar Berebi cabinet hardware, and professional-grade appliances. Includes an inviting banquette and access to the flagstone balcony/rear terrace. Note George II corner mahogany cabinet, circa 1765-1780.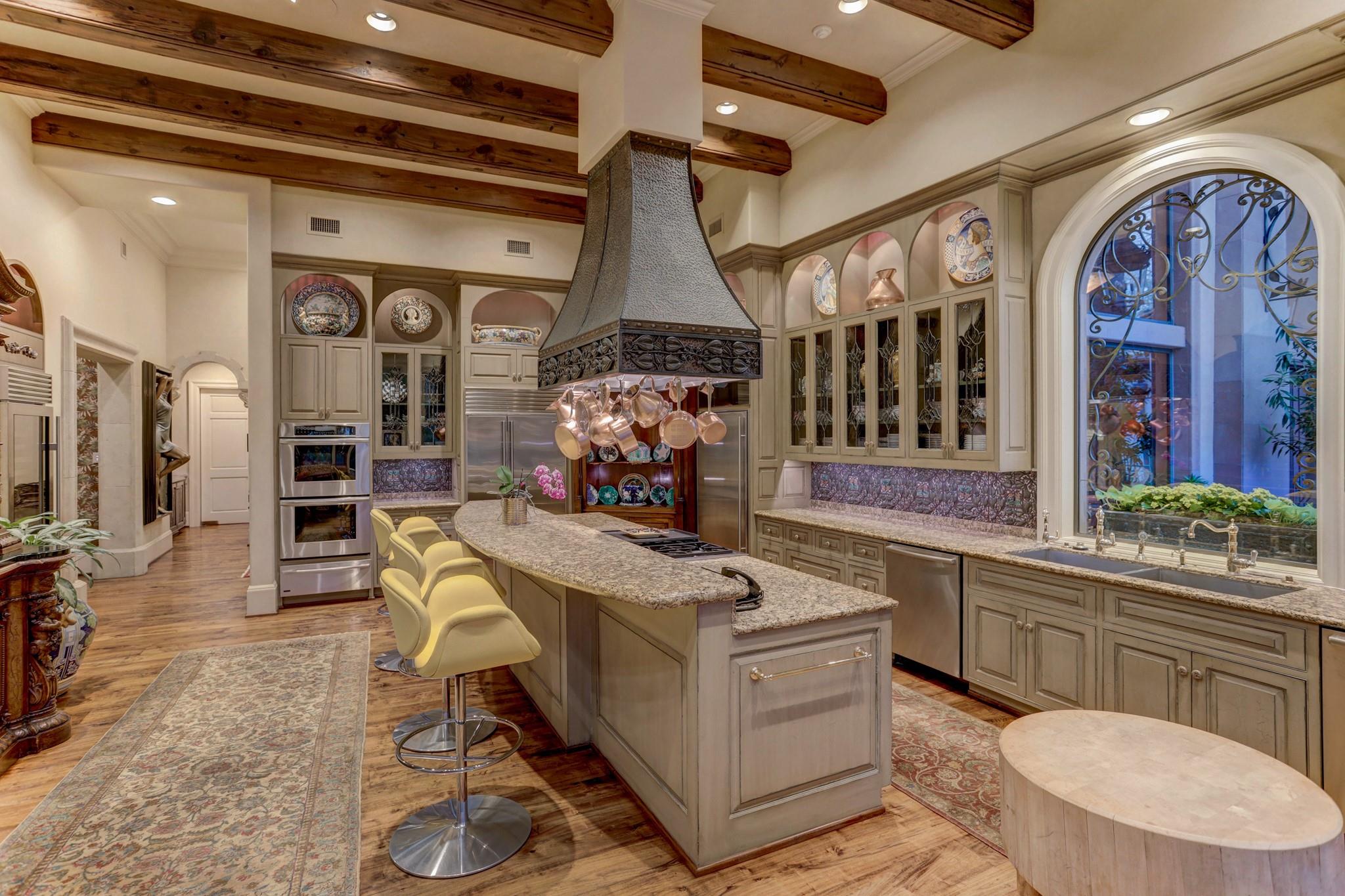 Kitchen (27' x 20') - An alternate view of the kitchen reveals the half-moon breakfast counter with pull-up seating, dual-basin stainless steel sink with dual Phylrich Victorian faucets, and full-size stainless dual zone wine cooler. The vent hood is custom made hammered bronze with wrought-iron edge to match acanthus leaf motif on backsplash, sourced by Architectural Design Resource.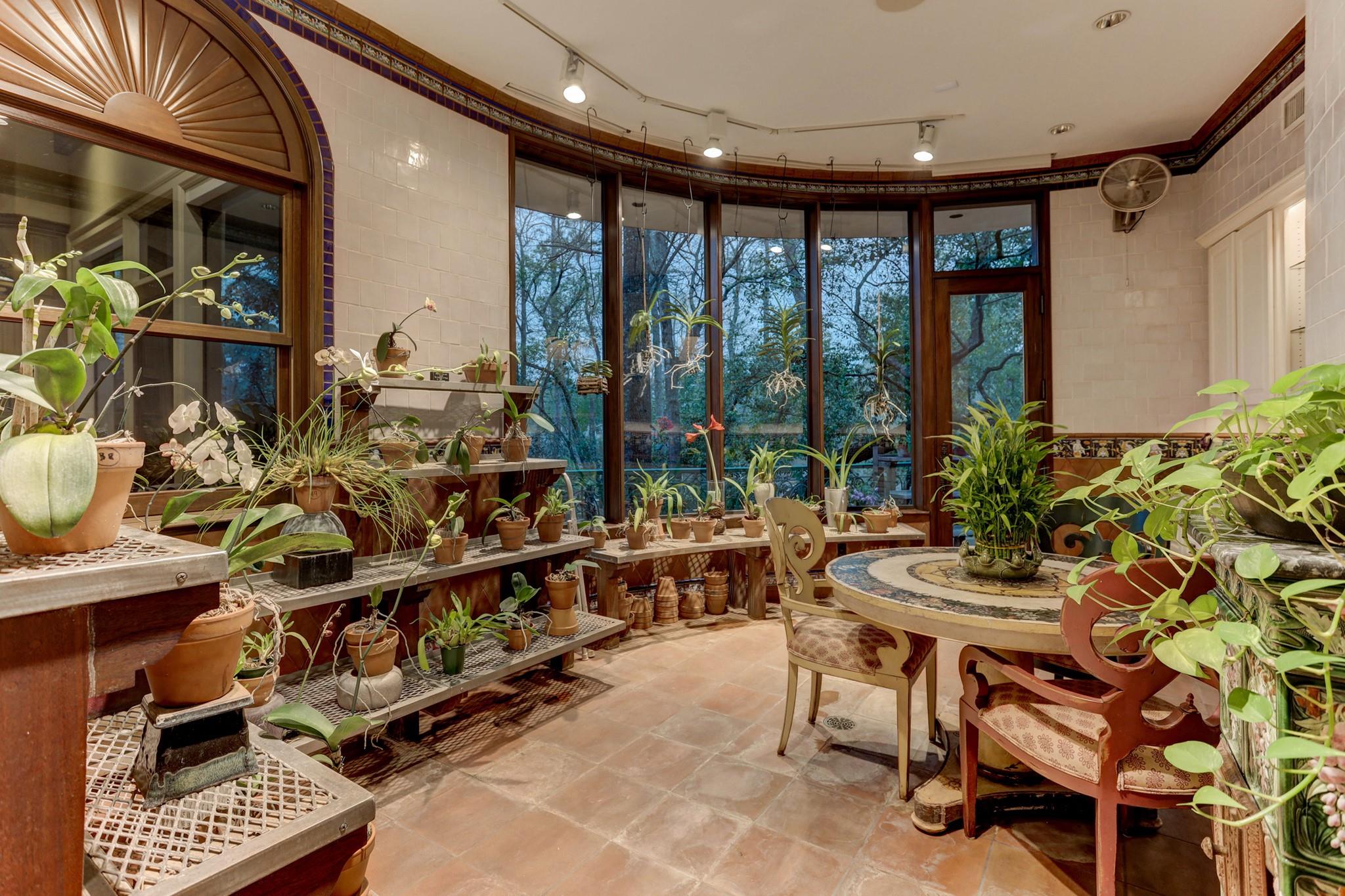 Orchid Room ( 18' x 11') - This inviting sunroom is temperature and humidity controlled with four full-lite windows set into a curved wall. 12" Saltillo tile flooring, floor-to-ceiling Saltillo tile accents, stainless steel sink, and Red Dragon granite slab countertops.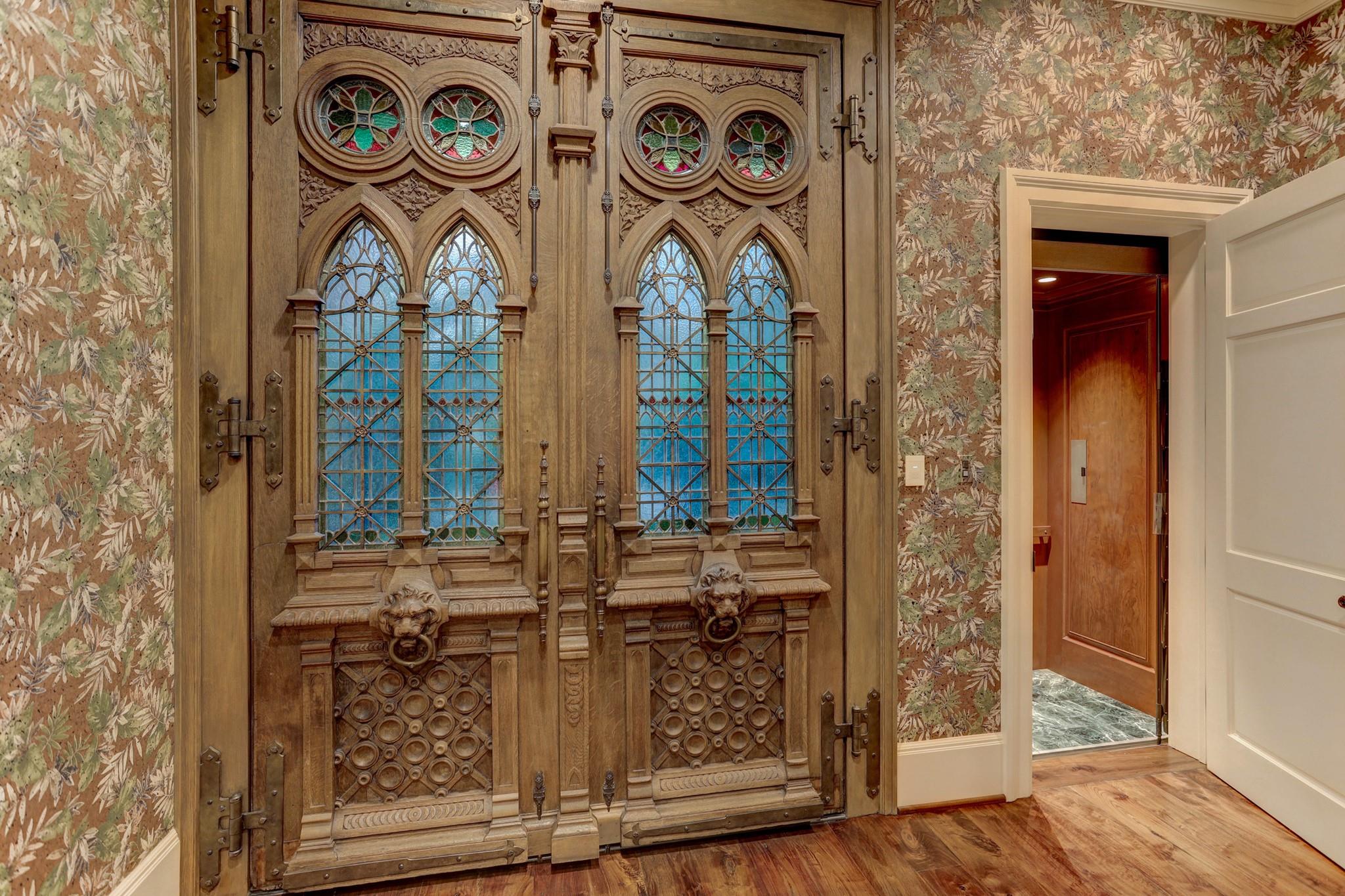 West Wing Foyer (15' x 8') - These reclaimed Gothic antique oak doors with stained and leaded glass panels open to the motor court. Old World Weavers Tropical Cork wallpaper. First-floor Inclinator elevator stop is shown at right.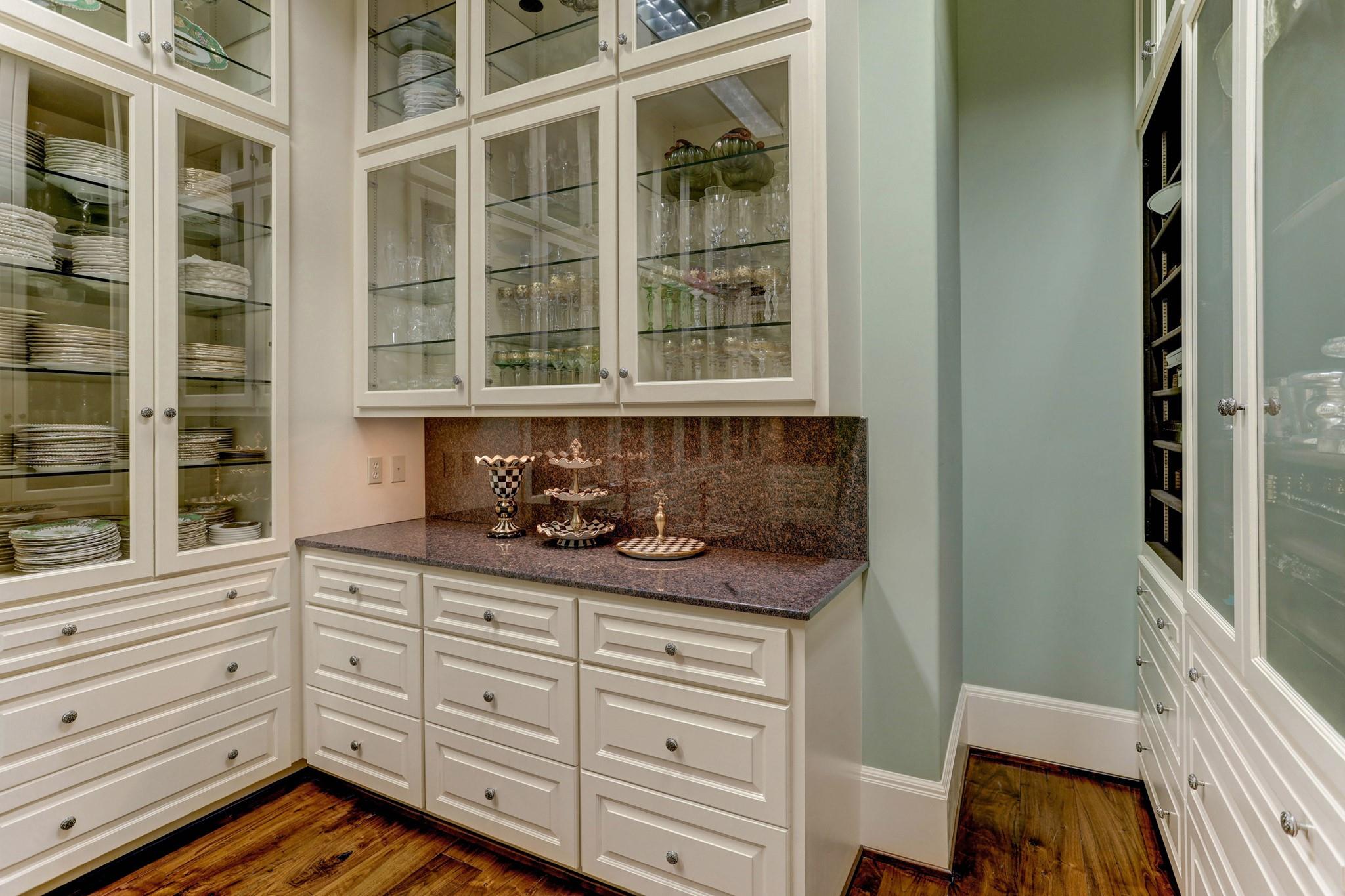 Silver/China Closet (16' x 9') - Much more than a closet, this specialized room safely stores china, crystal, and silver. Dakota Mahogany granite countertops and backsplash, Pacific Silver cloth lining in cabinets/drawers, and adjustable shelving.
Under-Stair Flexible Room (9' x 3') - Designated as a dog retreat, this under-stair space offers flexible use and is accessed through millwork cased arched entry. Decorative pendant light fixture and hand painted mural walls.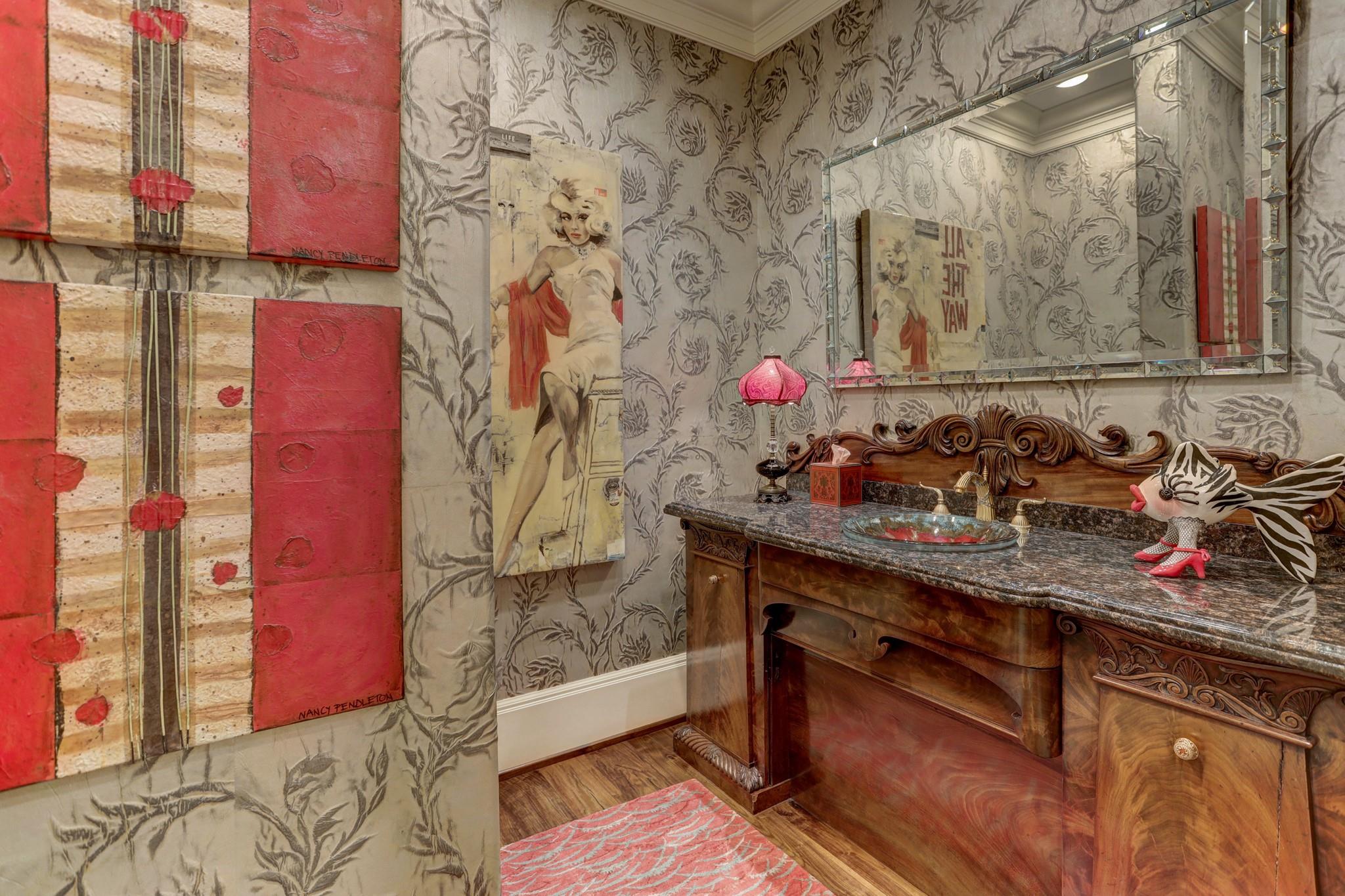 Powder Room (8' x 7') - A Tan Brown granite sink deck, mahogany furniture style vanity, multi-color glass vessel sink with Phylrich faucet in brushed gold finish, and Silk Dynasty Scroll pattern wallpaper grace this first-floor (west wing) powder room.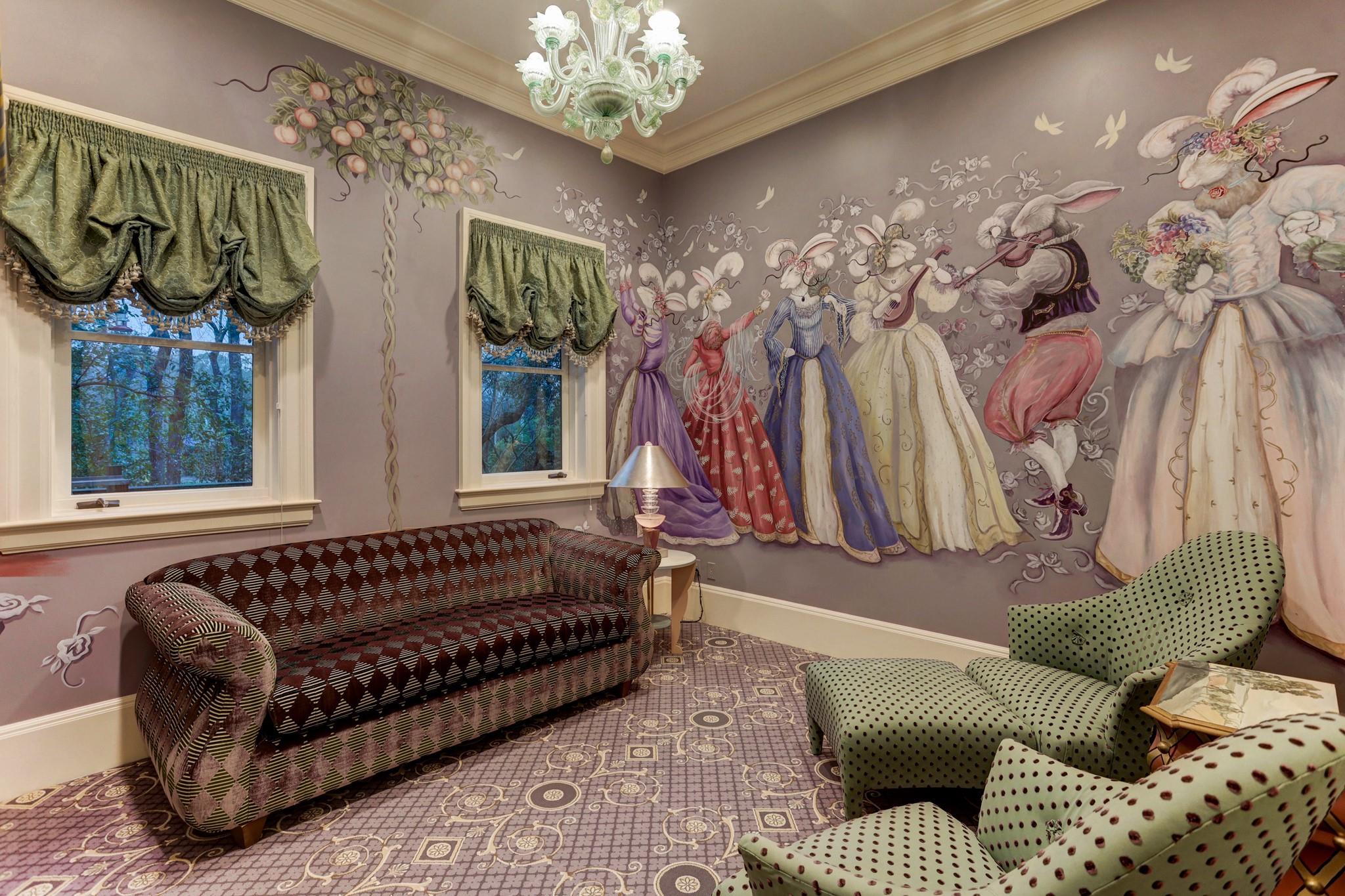 Sitting Room / Flexible Space (13' x 12') - What began as a children's playroom is now in use as a sitting room with Murano glass chandelier. Note wall murals, Rabbits of the Rainbow, inspired by the work of Pamela Silin Palmer.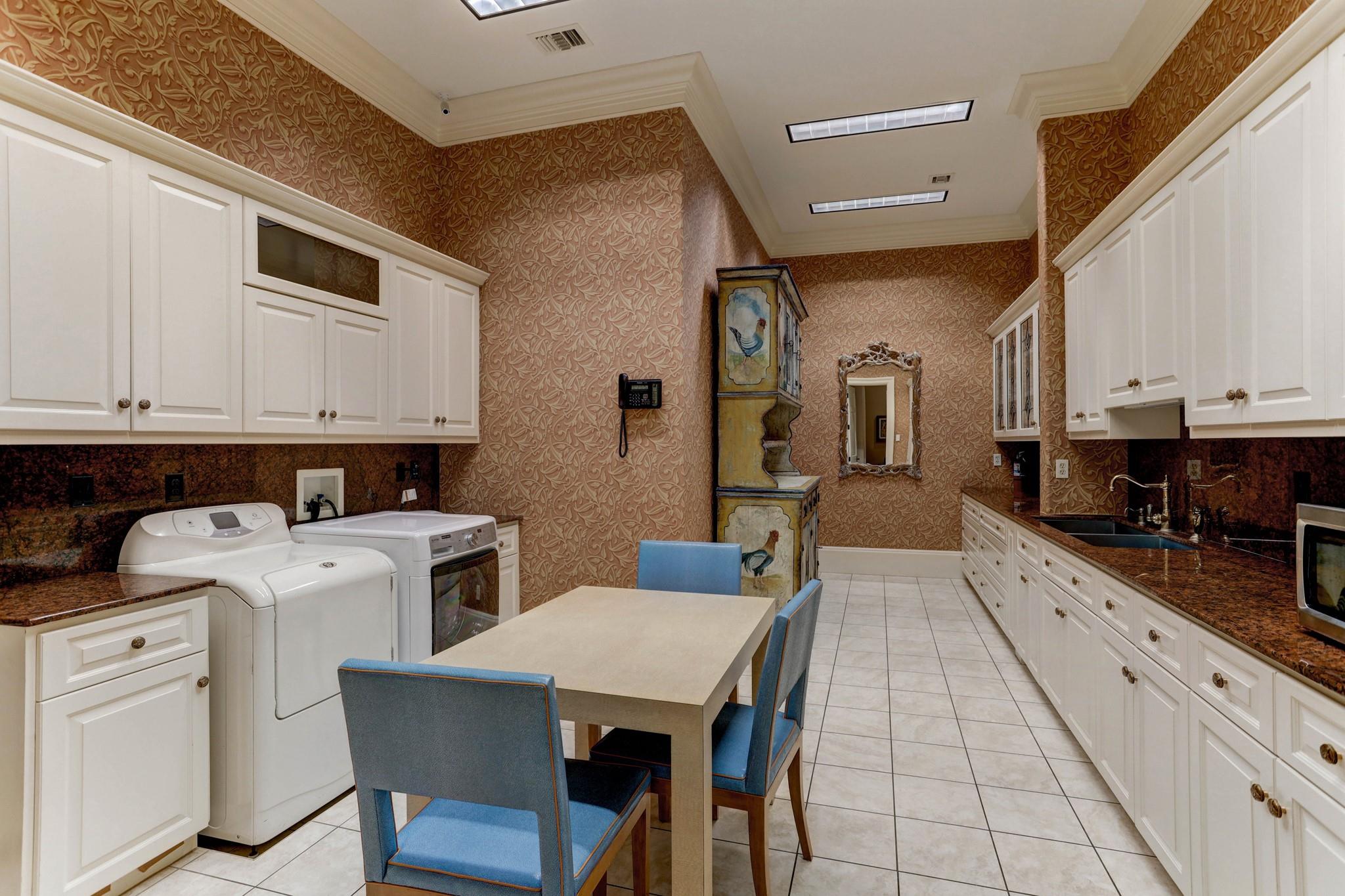 Laundry Room (22' x 13') - Expertly equipped with a dual basin stainless steel sink, drip dry area, abundant Red Dragon granite countertop and cabinet storage, and plenty of space for a table and chairs, this room is also a good location for a caterer's set up.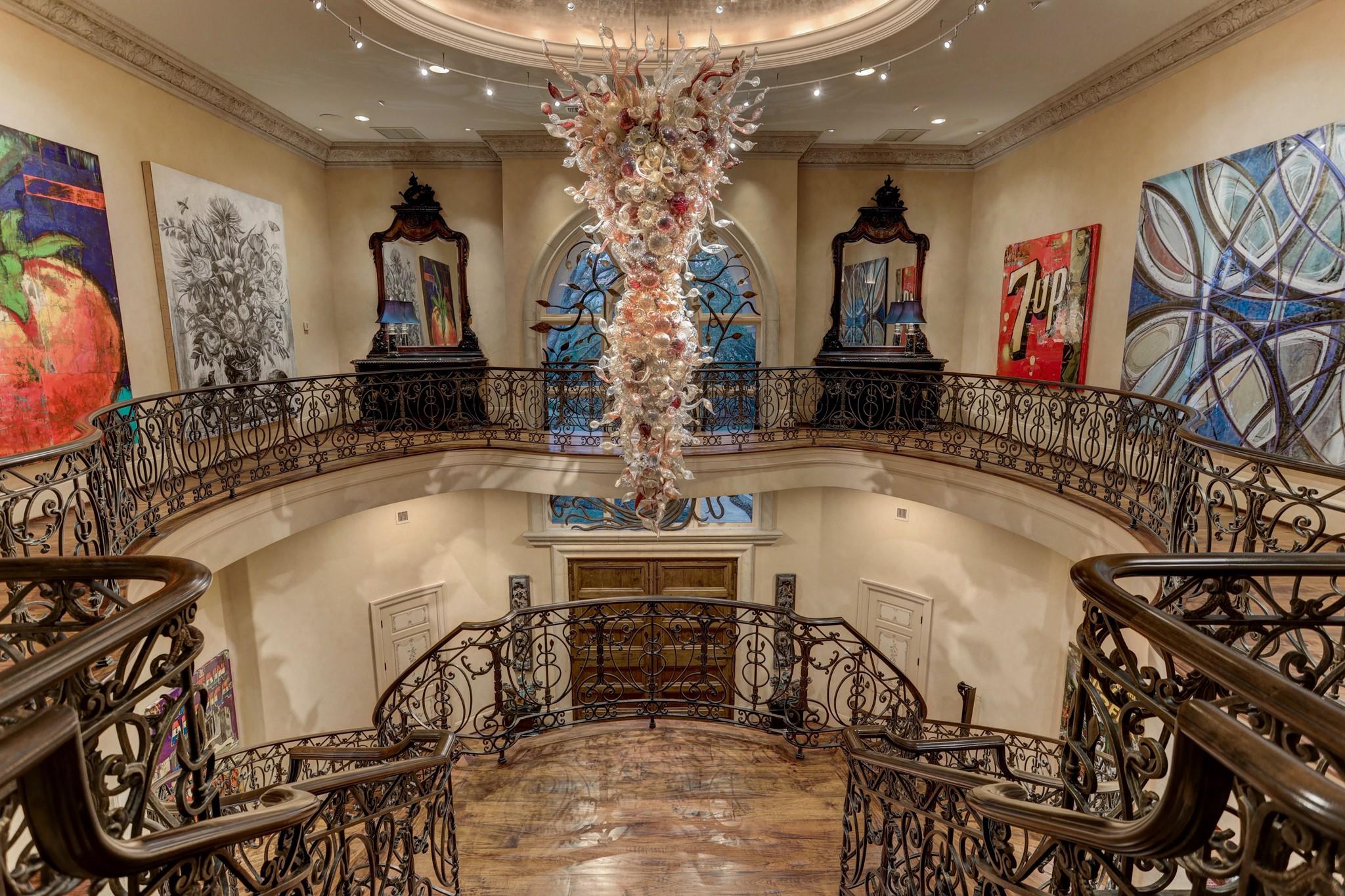 Grand Staircase - A view from the second-floor gallery over the cantilevered staircases toward the front doors. Custom fabricated wrought iron balustrade by Patina Metals.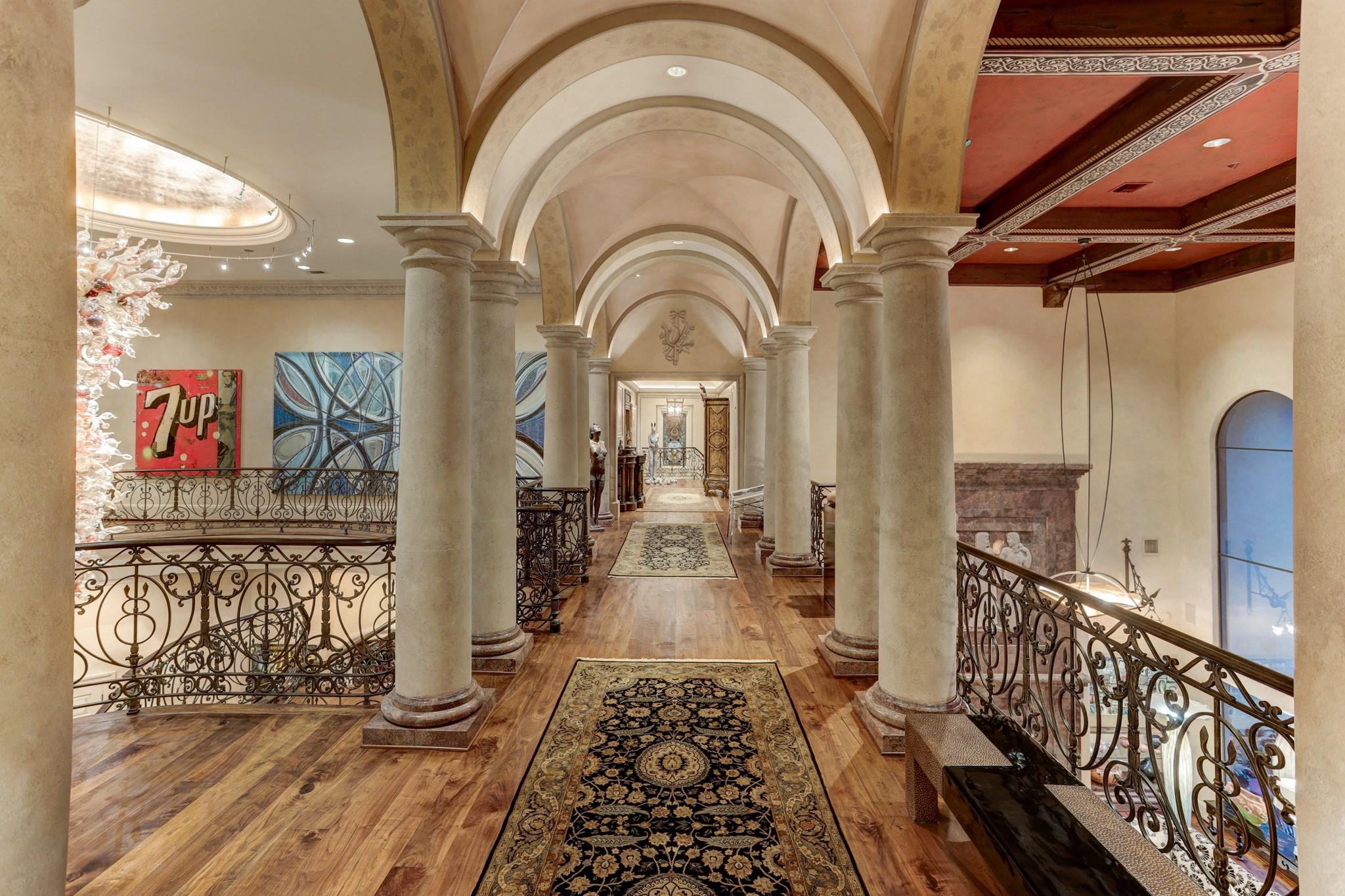 Upper Gallery - The upper gallery, open to the reception hall (left) and living room (right) provides a stunning internal vista. Cast stone columns supporting hand-stenciled arches with groin-vaulted ceiling.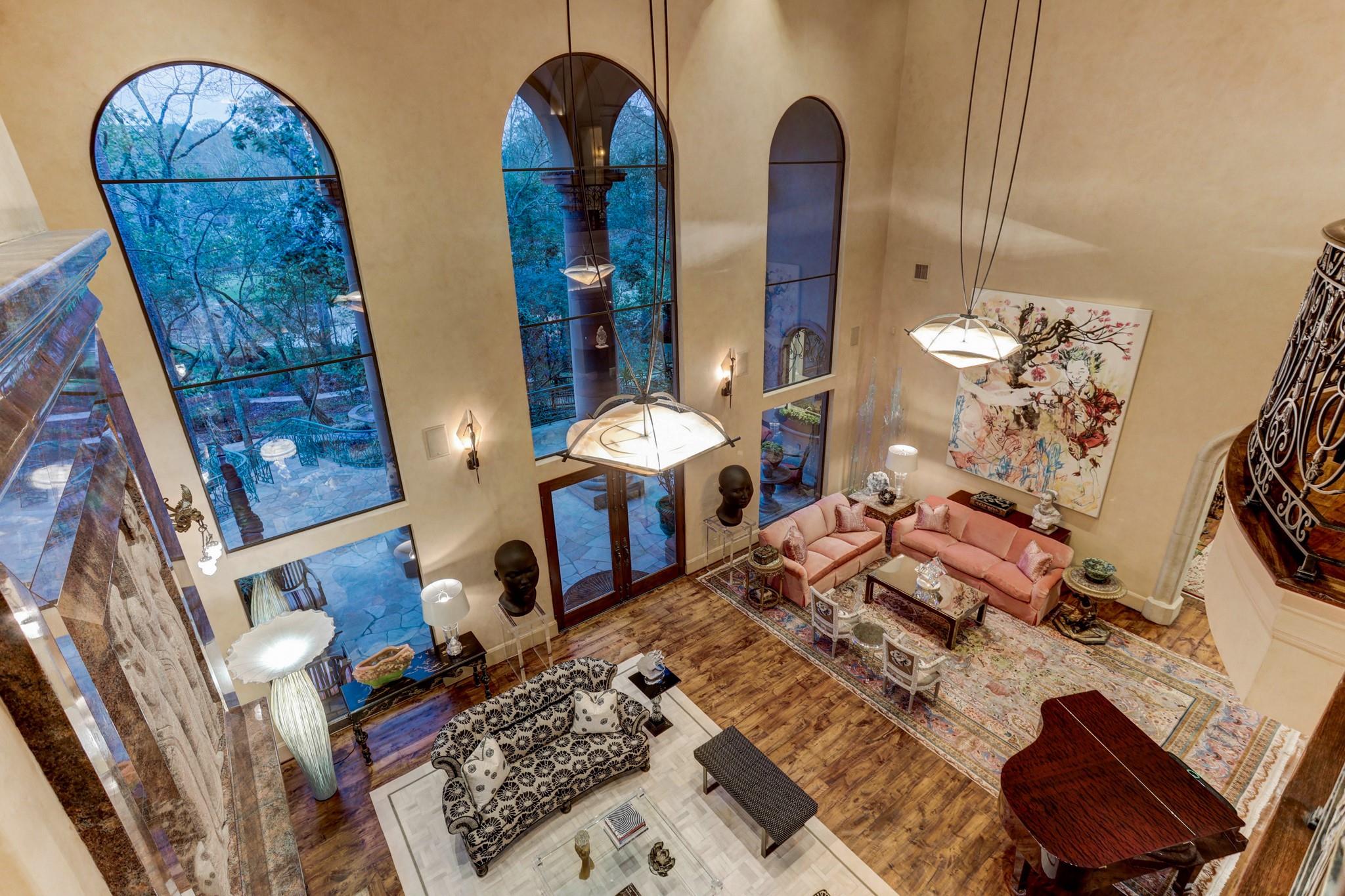 Living Room (34' x 24') - Bird's eye view of the living room from the upper gallery. Note the two Grace and Graham bronze chandeliers with onyx shades and the two Grace and Graham bronze wall sconces.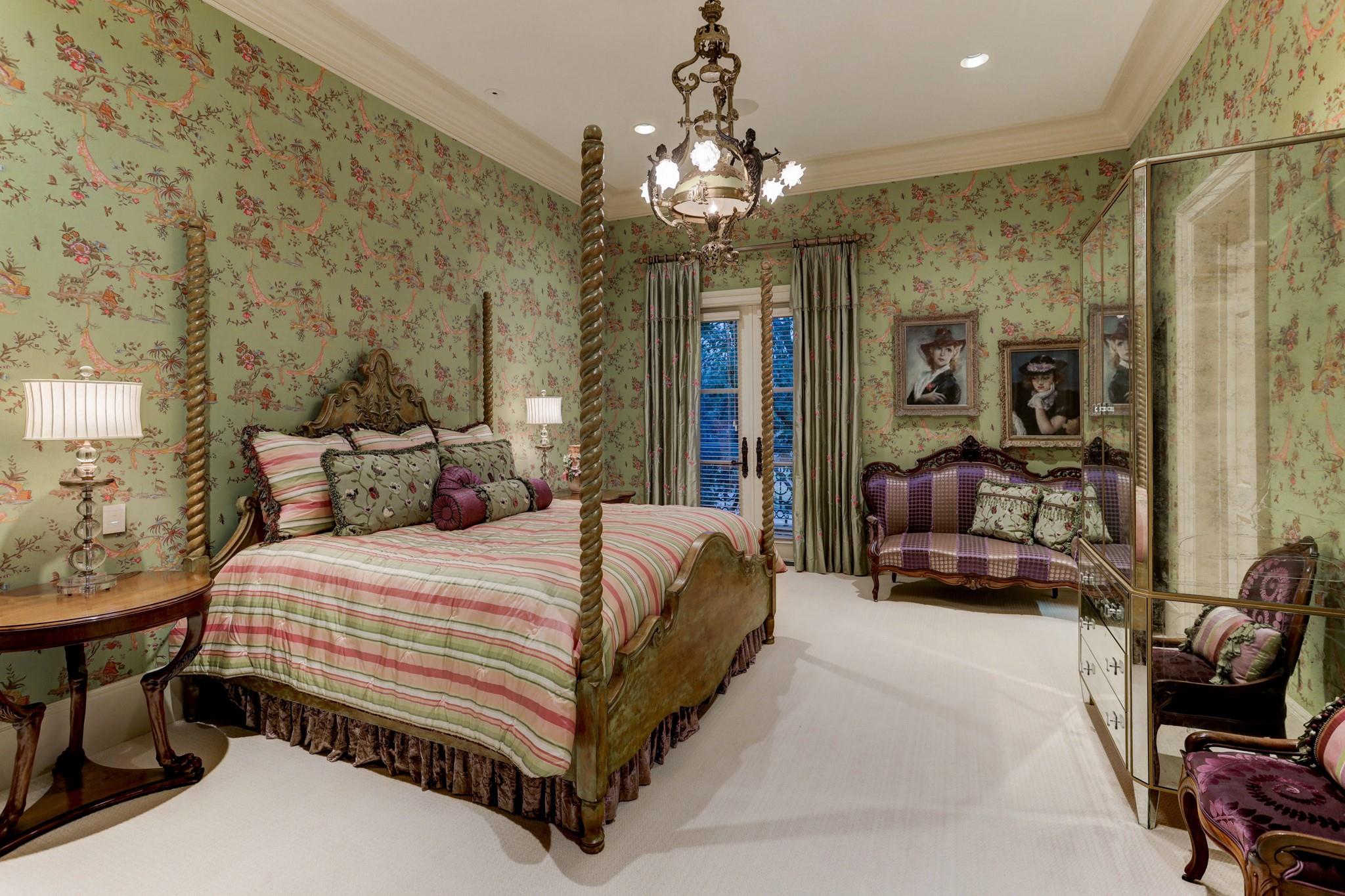 Guest Bedroom (20' x 15') - On the second floor, large, secluded guest bedroom suites offer custom-fitted walk-in closets and luxurious baths. This bedroom features Cowtan and Tout designer wall covering, ornate brass chandelier, access to private balcony, and late 17th century entry doors sourced from a temple in Haryana, India.
Guest Suite (20' x 15') - This second-floor guest suite features superb cherry wood cabinetry surrounding an exterior door to the upper balcony. F. Schumacher designer wall covering, window bench seating with built-in drawers, and entry doors are 18th century teak with iron Jali screen sourced from Patan, Gujarat, North India.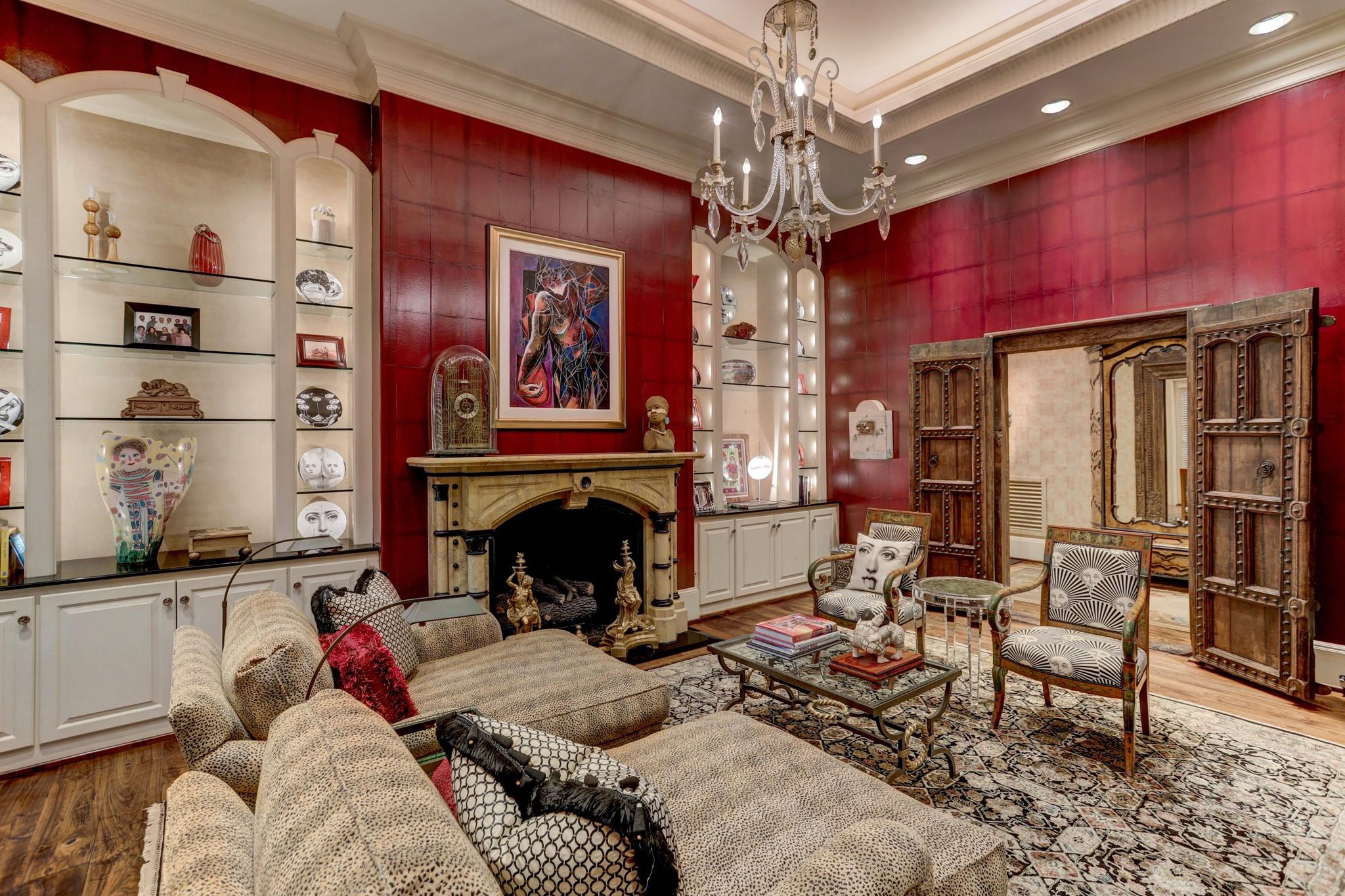 Study (23' x 20') - Located on the second floor, this elegant study, complete with an antique European fireplace with marble surround, and mediation room, may serve as a bedroom if desired. French double doors to private balcony, built-in desk with India Black granite slab countertops and backsplash, 18th century teak door from Northern India, five candle branch chandelier circa 1900, and display cabinets with adjustable glass shelving.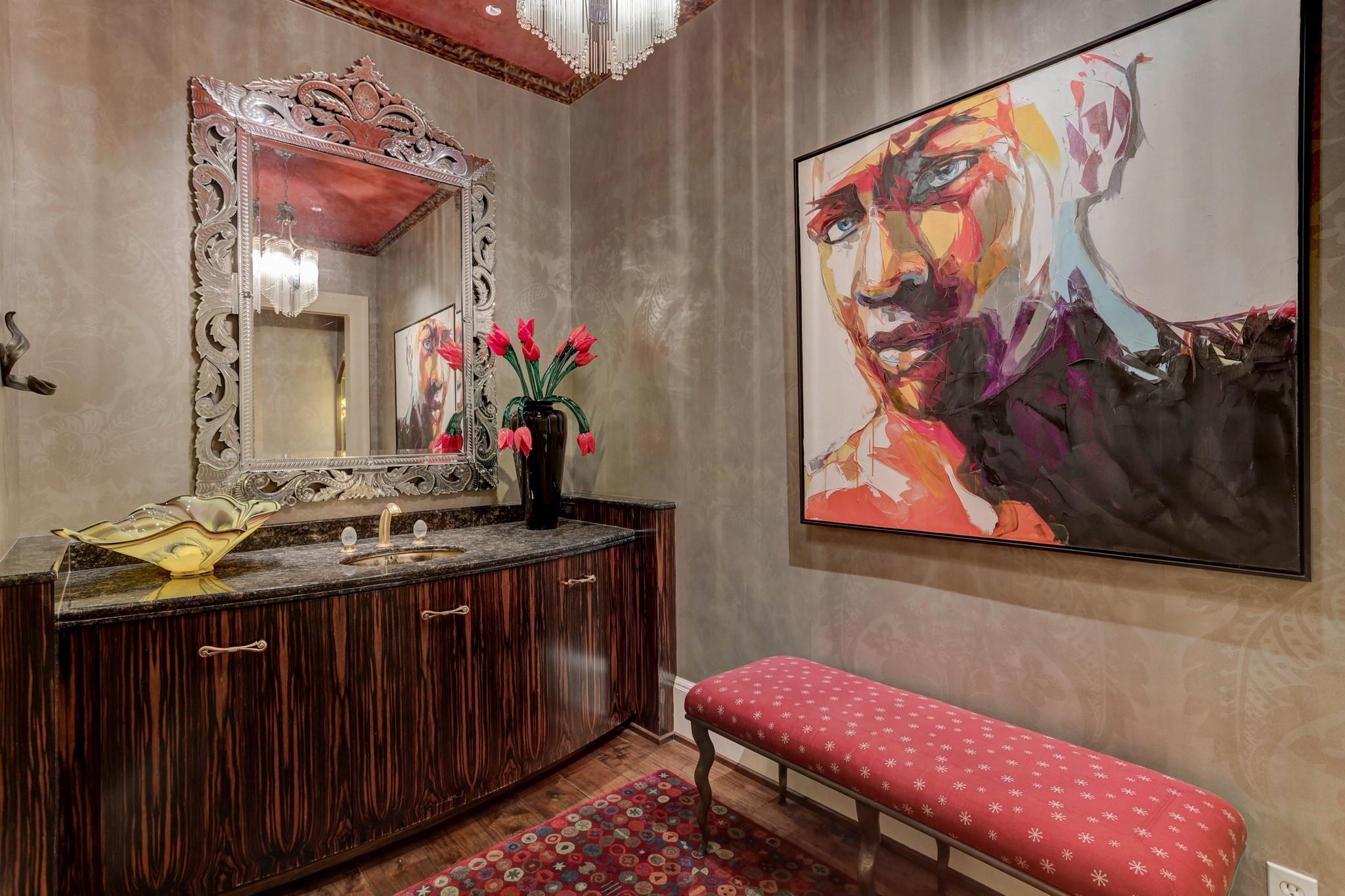 Powder Room (15' x 7') - Macassar ebony wood creates a stunning sink cabinet for this second-floor powder room. Tan Brown granite slab countertops and backsplash, Anya Larkin Daphine designer wall covering, silvered bronze and glass chandelier, additional vanity in lavatory closet.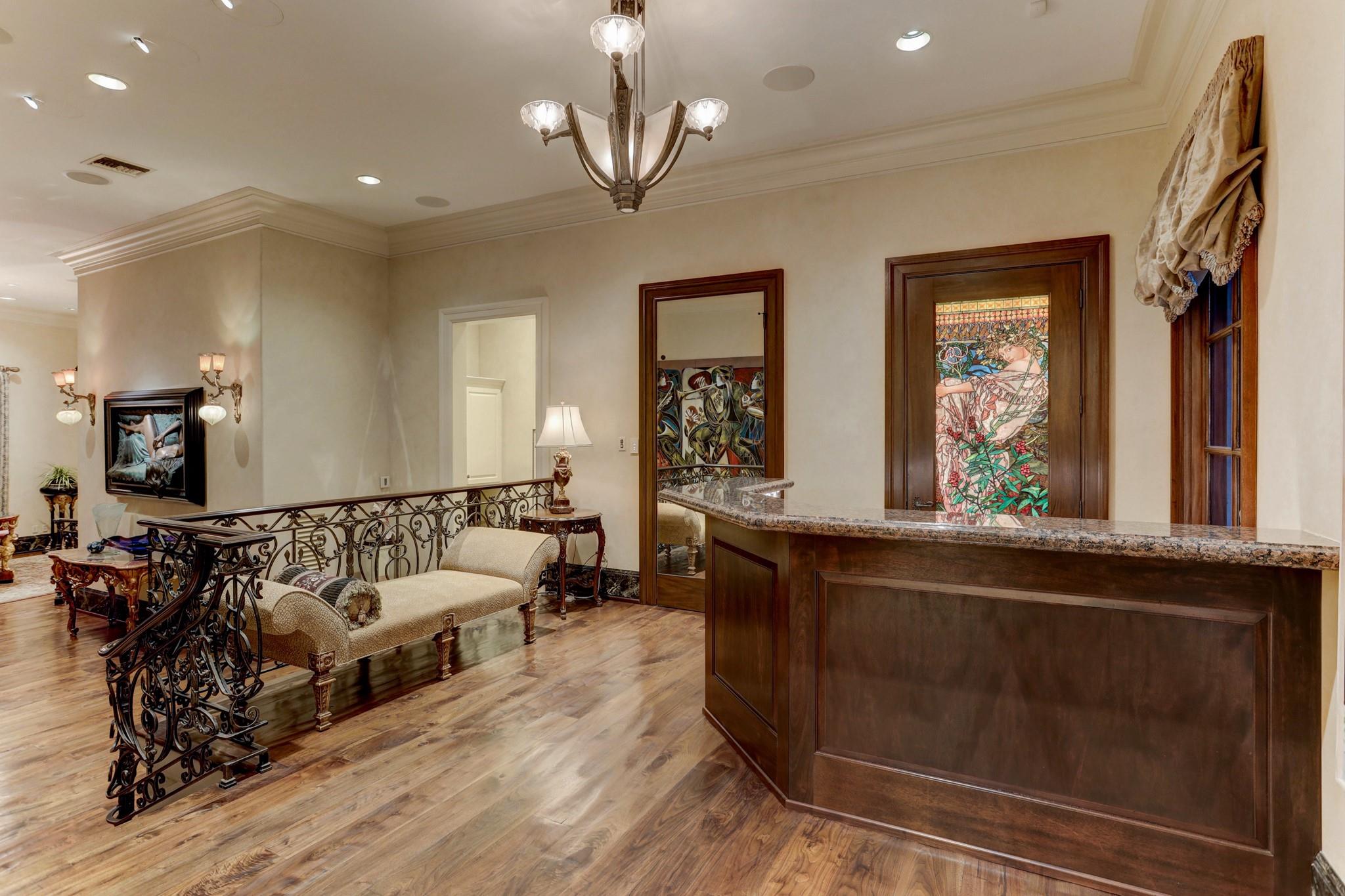 Ballroom Ante Room (48' x 15') - This split-level space, located just outside the entrance to the ballroom, includes a dry bar with Dakota Mahogany granite countertop for serving ballroom guests; two elevator stops (one on each level); and a staircase from the first floor. Stained-glass paneled door opens to a deep storage and electronics closet. European sourced Art Deco chandelier.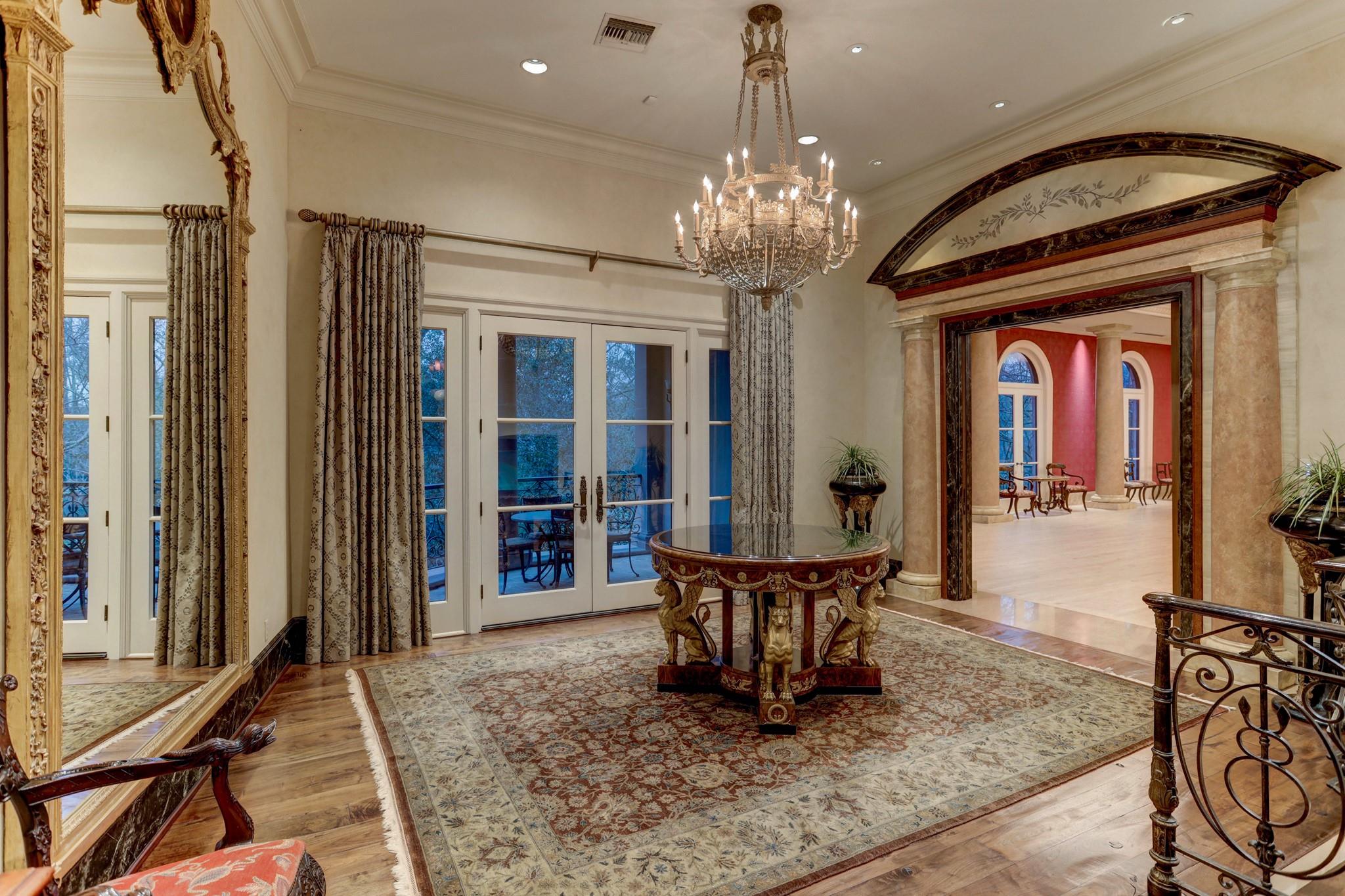 Ballroom Foyer (48' x 15') - 3-lite French double doors open to a balcony and sitting area. Ballroom entrance is at right and is accessed through sliding solid mahogany pocket double doors. 24 candle European sourced brass chandelier.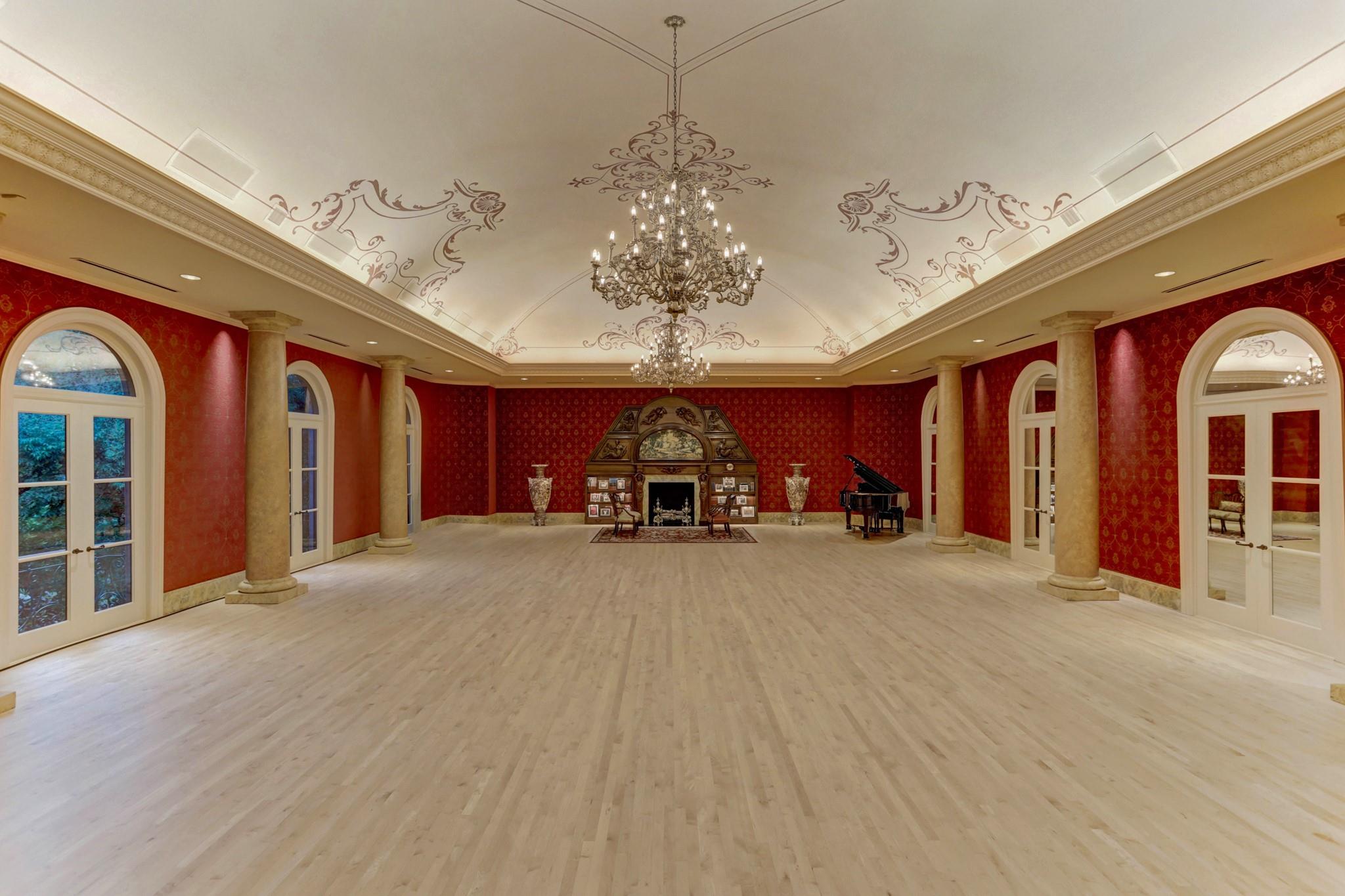 Ballroom (60' x 39') - The elegant ballroom features a long interior wall of mirrored French doors with arched transoms above and banks of exterior French doors that overlook the gardens, pool, and bayou. 18' groin-vaulted ceiling featuring stenciled paint details, Baswa acoustic sound abosrbing plaster panels, two 36 candle Filagree chandeliers, faux fireplace with hand carved wooden mantel, DJ booth nook, dedicated AC system for ballroom usage, and wired for theatricallighting.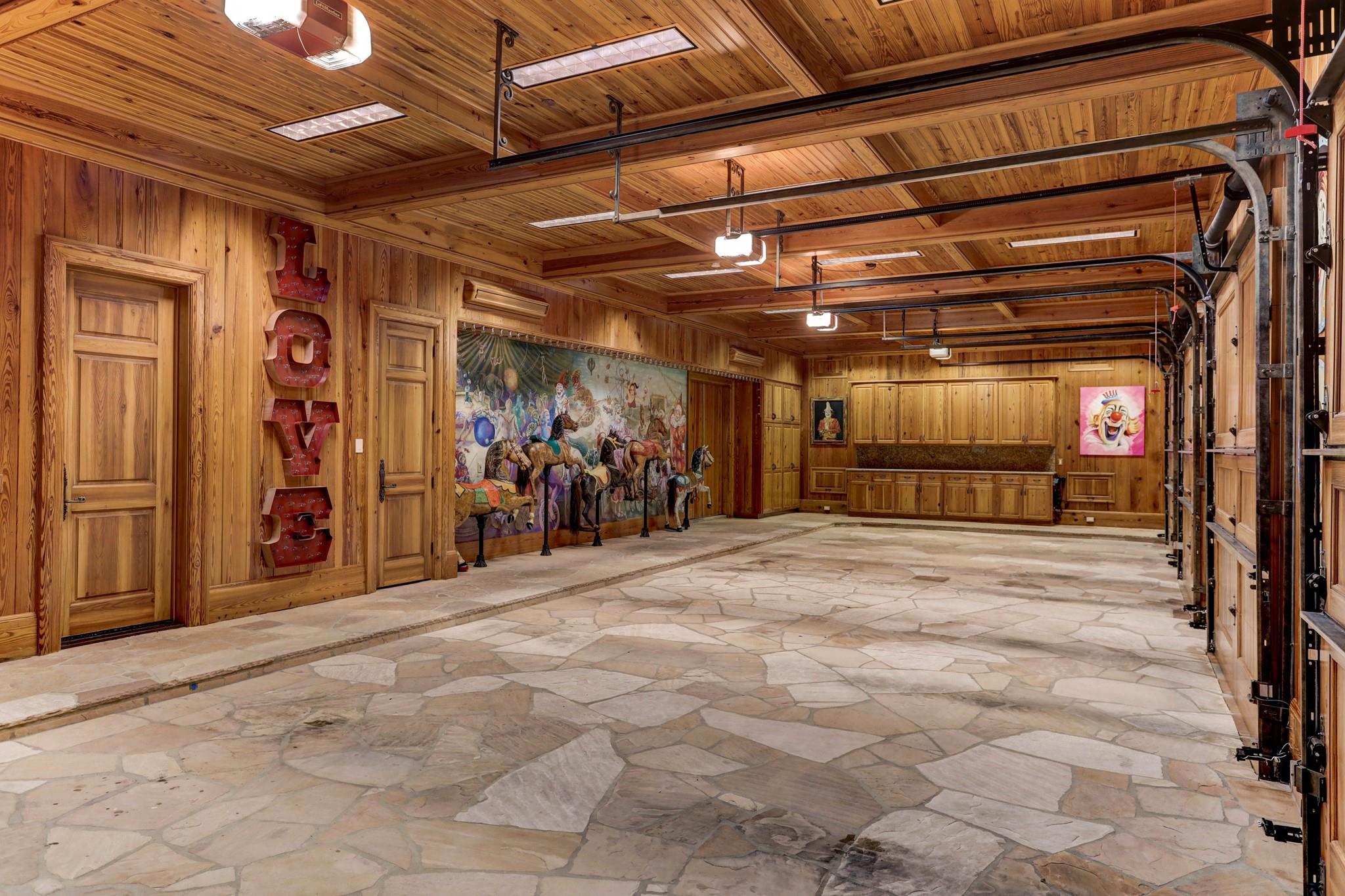 Garage (58' x 22') - The elegant, air conditioned four-car garage provides carriage housestyle and exceptional entertainment possibilities. Appointments include reclaimed long leaf pine paneling and reticulated mahogany bay doors stained to match; a boxed beam ceiling; flagstone floor; extensive work area; and a climate-controlled storage/managers office.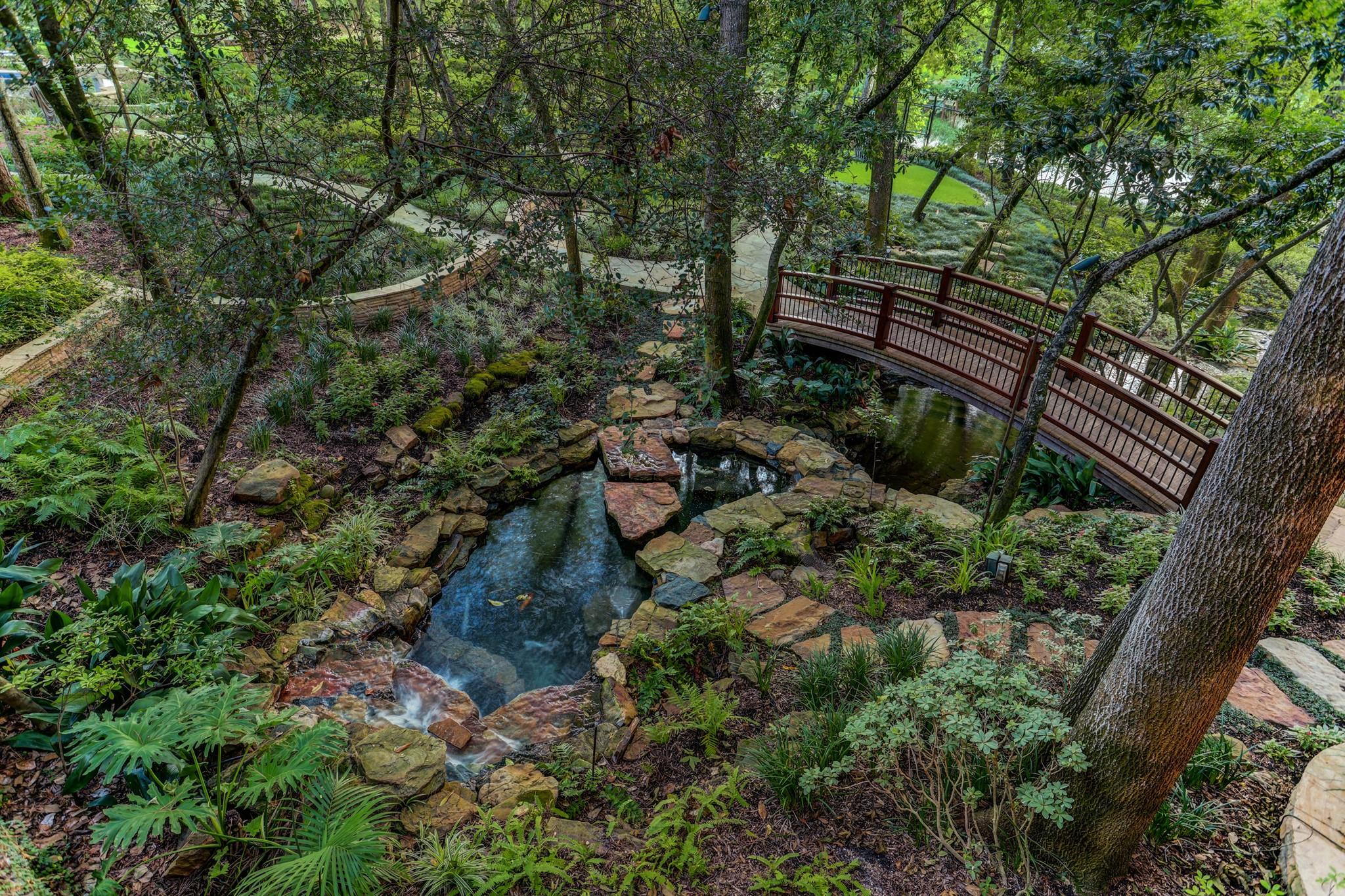 Gardens - Outside in the gardens, tiered parterres interspersed by bubbling rivulets and cascading waterfalls slope down the bluff. Koi fish pond with waterfall and recirculating water pump, landscape lighting, arched bridge.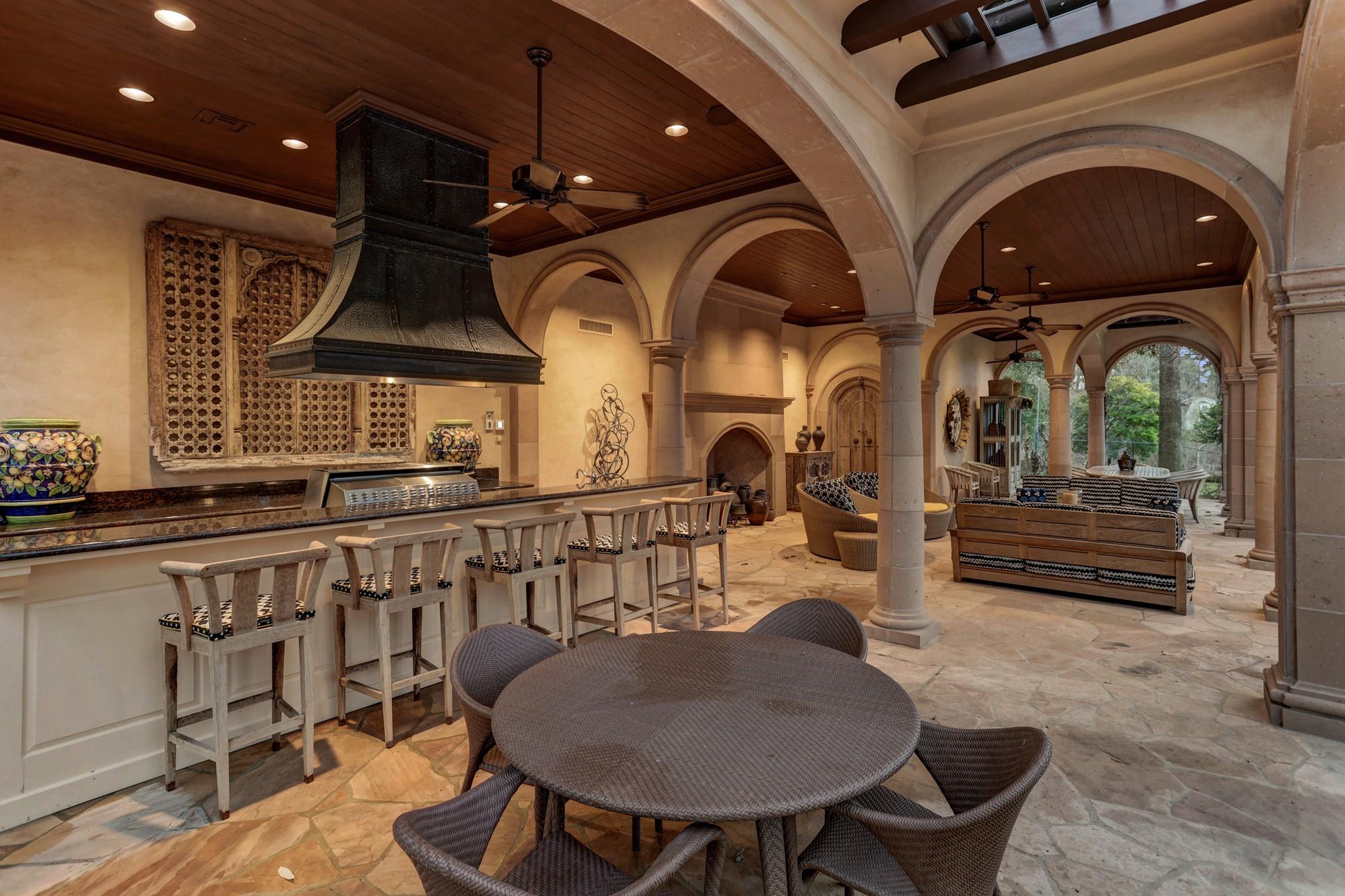 Pool Pavilion (23' x 16') - The outstanding pavilion overlooks the pool and provides an inviting location for outside entertaining. Amenities include a summer kitchen with gas grill/smoker, mini-refrigerator, ice maker, Dakota Mahogany granite countertops, living and dining areas with full bath and half bath, shiplap ceiling paneling, ceiling fans, fireplace, and spectacular views of the bayou and white sand beaches.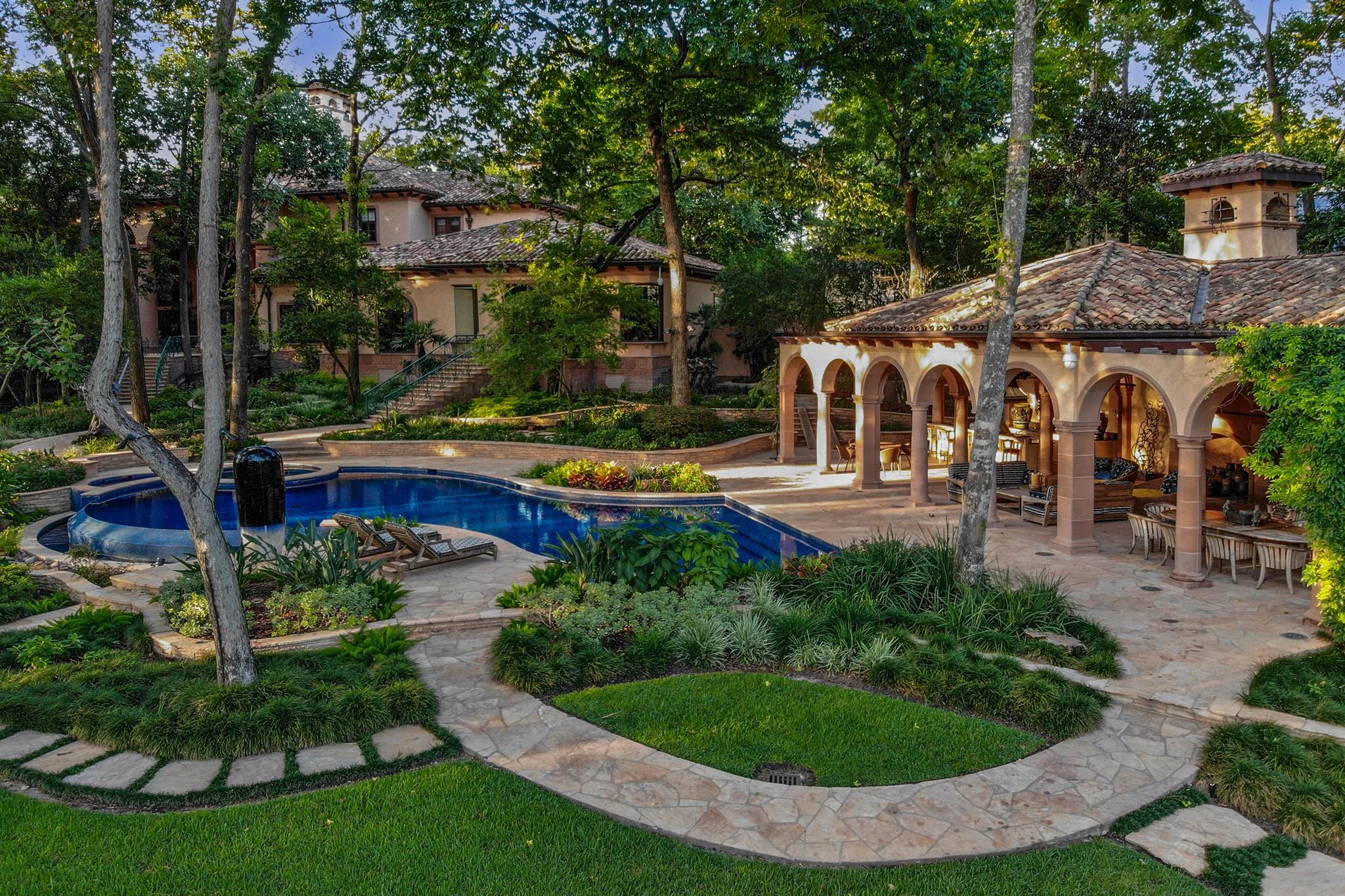 Rear Elevation - A view from the edge of the gardens travels up to the house. Infinity edge swimming pool with blue tile and wrap around bench seating. Hot and Cold spas.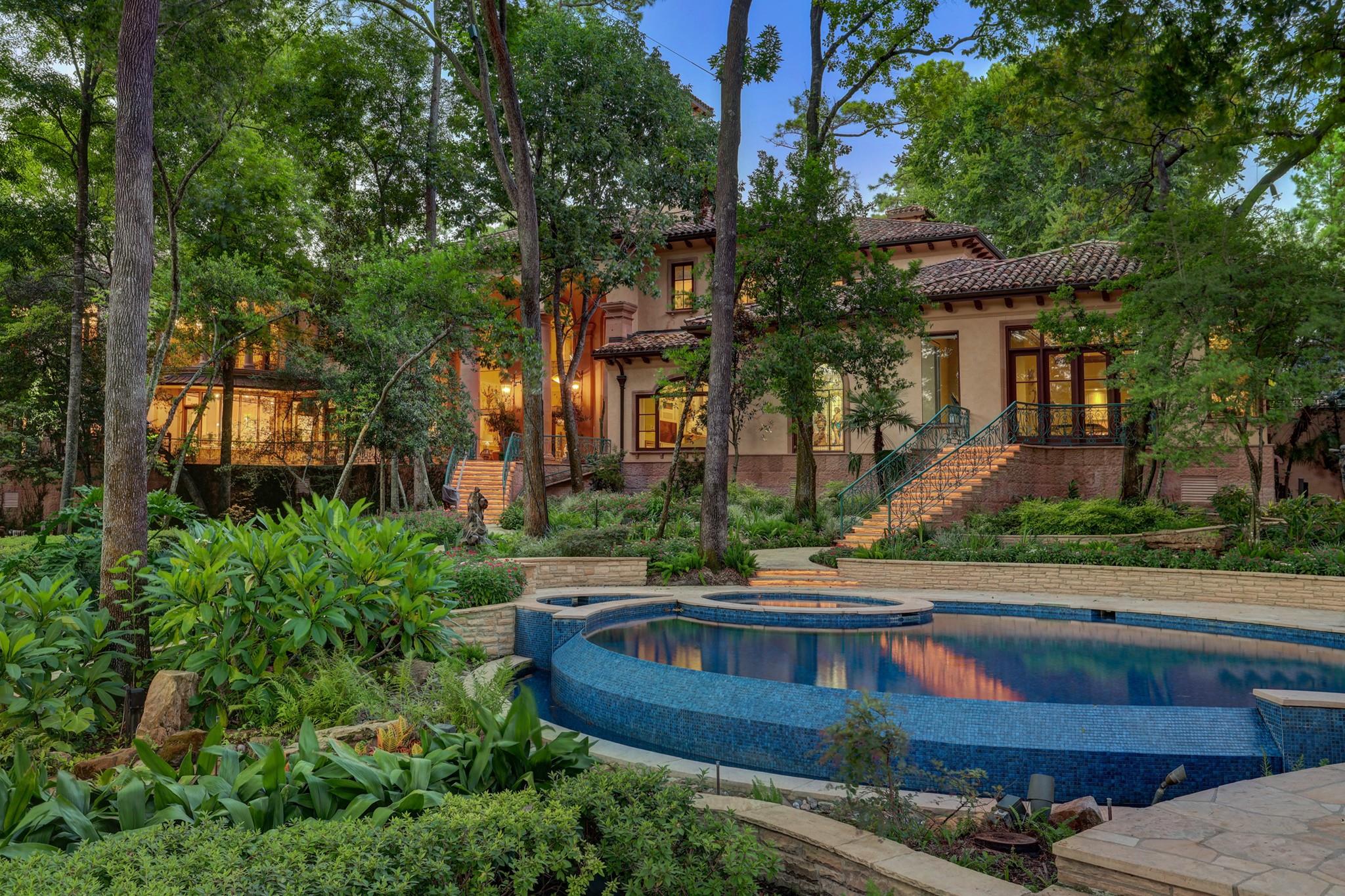 Pool - A close view of the infinity pool and spa. There is a specially designed inclined dog walkway that leads up one of the rear stairwells for small dogs that may have trouble with the stairs.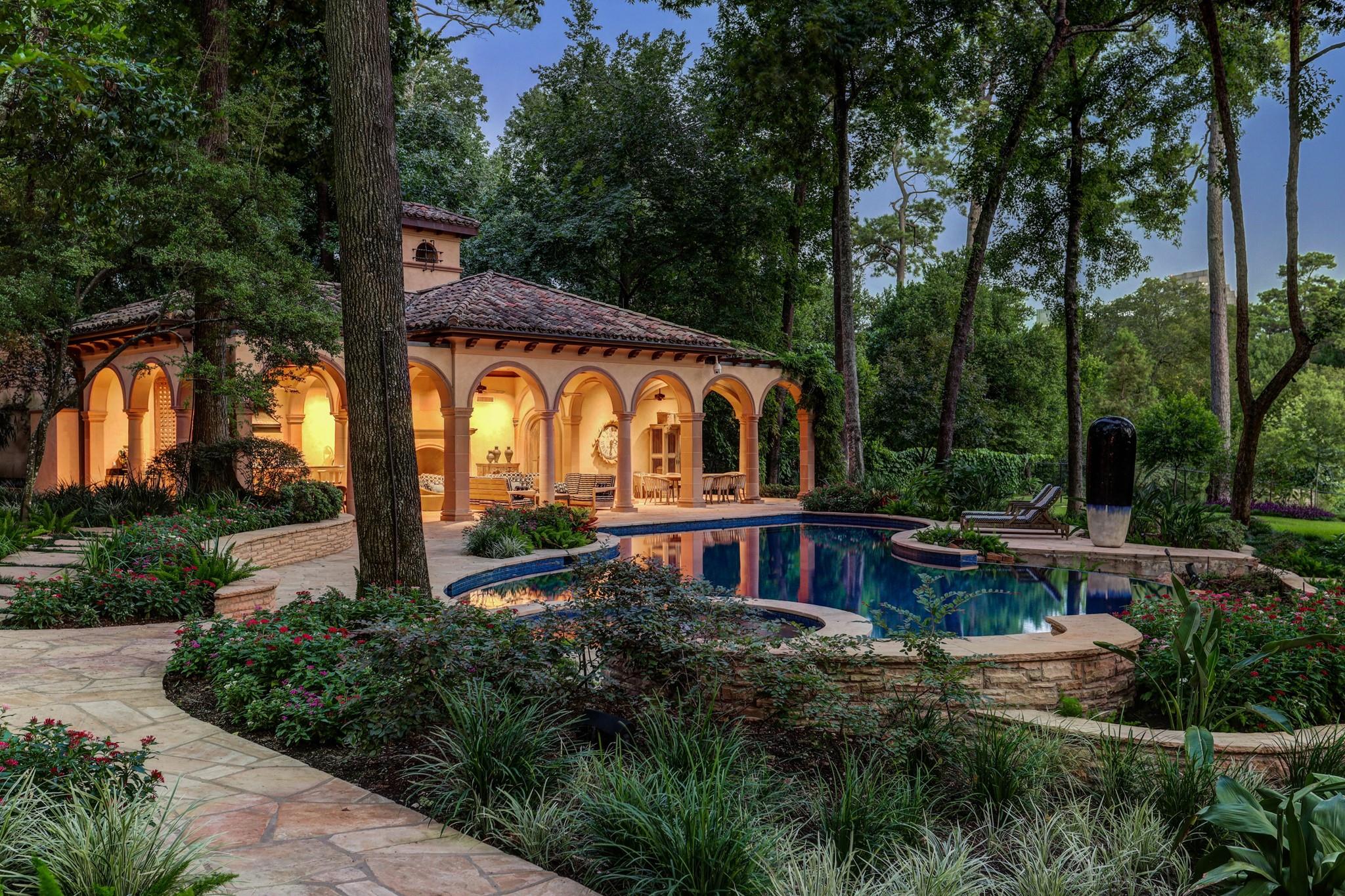 Pavilion at Dusk - A twilight photo of the pavilion, pool, and gardens.